China's project to produce a 600km/h maglev train that can travel faster than the cruising speed of a commercial airliner passed another milestone yesterday with the unveiling of its first five-car trainset in the coastal city of Qingdao.
Built by the China Railway Rolling Stock Corporation (CRRC), the train is part of a project that began in 2016 to build a commercial maglev service. A prototype was unveiled in May 2019 (see further reading), and a successful test run was made in June the following year.
This latest version will undergo five years of tests to verify that the novel technology developed for it is reliable, and to build some maglev lines for it to run on.
"At present, the integration and joint commissioning of the system has been completed, and the 5-car train has achieved stable levitation and dynamic operation on the commissioning line of #CRRC Sifang plant, with excellent performance in various functions," CRRC said on Facebook.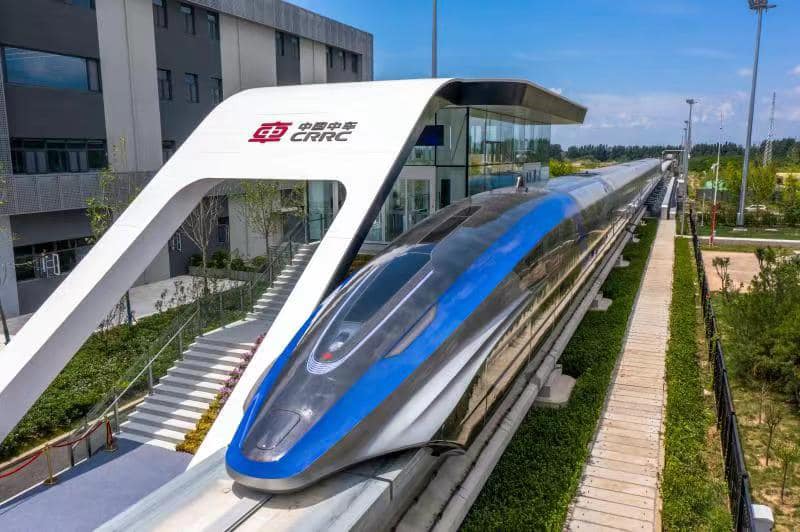 The trainset 'achieved stable levitation and dynamic operation on the commissioning line', CRRC said (From the Facebook page of CRRC)
The CRRC Qingdao Sifang Rolling Stock Research Institute told the Chinese state news outlet Global Times that the trainset superceded current maglev design with a system that allows the train to brake in 10km, rather than the 16km required by China's only other maglev line, which serves Shanghai airport.
Other problems that had to be solved were in the areas of power supply, the couplers that connect the carriages, and control and communication. Passengers will have access to 5G wifi, and will be able to charge their phones wirelessly.
According to the institute, a train with five carriages has been running on a test line inside the factory. The production version will have between two and 10 carriages, each holding more than 100 passengers, according to Ding Sansan, chief engineer for the project.
Ding commented that the train would provide a good solution for trips shorter than 1,500km.
Top image: CRRC's first five-car maglev trainset was unveiled in Qingdao yesterday (From the Facebook page of CRRC)
Further reading: