17 April 2013
Negotiations between a Chinese state-run bank and a US homebuilder for a $1.7bn loan to fund two major San Francisco developments have collapsed.
Lennar Urban had been in negotiations since last year with the China Development Bank to finance the construction of around 20,000 homes on former Navy bases at Hunters Point and Treasure Island.
San Francisco's mayor, Chinese-American Edwin Lee, even went to China at the beginning of April to facilitate negotiations, but he confirmed reports last week that talks between Lennar and the bank have ended.
"I wish we could have gotten the funding done, and I'm going to continue to try and help Lennar to do that," the mayor told The San Francisco Examiner.
Rendering of Oakland's $1.5bn Brooklyn Basin redevelopment, which has secured Chinese funding. (Oakland Harbor Partners)
Neither Lennar nor the Mayor's Office would say why the deal fell apart, but the newspaper reported sources describing disagreements over how the investment would be taxed and how much Chinese construction companies would be involved.
The failure to strike a deal is a blow to Lennar and the city, which suffers from a housing shortage, but the recent trend of Chinese investment into California looks set to continue.
Treasure Island, San Francisco, failed to get $1.7bn from the China Development Bank
In fact, as San Francisco was absorbing the bad news about its stalled developments, just across the bay in Oakland people were celebrating the news that a Chinese investor, Zarsion Holdings Group, had agreed to invest an undisclosed amount in a $1.5bn plan to transform 65 acres of industrial waterfront into a district of homes, towers, shops and parkland.
Oakland's Brooklyn Basin development, led by US developers Signature Development Group, includes 3,100 housing units, 200,000 sq ft of retail and commercial space, and 30 acres of parks.
The deal with Zarsion was announced by California state governor Jerry Brown during a trade mission to Beijing on 10 April.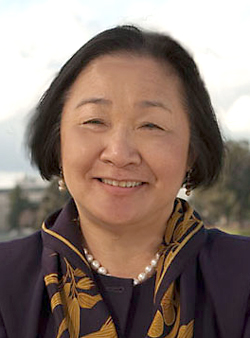 Oakland mayor Jean Quan
The Zarsion deal was facilitated by Oakland mayor Jean Quan, who in 2011 became the first Chinese American woman to be elected mayor of a major US city.
Earlier this year China Vanke Co, China's largest real estate developer, teamed up with US real estate firm Tishman Speyer Properties to develop two residential towers at 201 Folsom Street in San Francisco.