A massive real estate scheme in Malaysia led by a Chinese developer has encountered a serious glitch because its target market, the property-hungry Chinese middle class, are being prevented by their government from buying its swanky beach-side apartments.
Since the end of last year Beijing has cracked down on capital outflows from China, which means the company now has to deal with thousands of once-eager buyers who made hefty down payments but who can no longer complete their purchases without falling foul of new restrictions.
It's staggering how quick these Chinese make decisions. They don't hesitate
At first the company, Guangdong-based Country Garden, soothed their concerns by promising refunds, but last week it appeared to back-pedal on that pledge as it comes to grips with the situation.
The Chinese buyers are now in limbo over their dream homes and the cash they've already handed over.
"I called my sales officer on Tuesday and he could only say that my refund is still on hold," Mr Zhang Guanguang, a 27-year-old teacher from Hefei city in Anhui Province, told Singaporean newspaper The Straits Times. Zhang put a down payment of $16,000 (110,000 yuan) last year for a 54-sq-m apartment.
"It's been dragging on for more than a month, and all they can tell me is to wait," he told the newspaper.
$100bn city
The paradise they may be shut out of is Forest City (pictured), a 14-sq-km mixed-use scheme planned on four man-made islands in the narrow Straits of Johor that separate peninsular Malaysia from Singapore.
Billed as a "smart eco-city" with cars banished to underground roads and parking bays, Forest City is planned to have tourist attractions, a school complex, a variety of business districts and homes for approximately 700,000 people by 2035.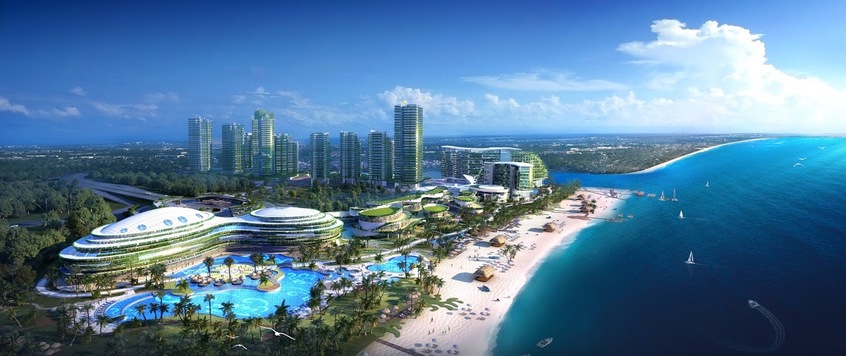 A green and pleasant place to live (www.forestcityjohor.info)
A joint venture between Country Garden and asset management firm Esplanade Danga 88 (partly owned by the sultanate of the Johor Bahru district), Forest City was granted duty-free status by the Malaysian government last year, giving it a slew of tax breaks and other incentives designed to attract companies.
Country Garden has claimed the city will be employing 220,000 people when it is complete.
Originally the developer said Forest City would attract investment totalling around $40bn, but that claimed figure has more than doubled.
In December Forest City signed agreements with 36 companies from China and other countries, including Huawei, Accenture, Midea and Deutsche Bank Asia Pacific, representing a total cumulative investment of $100bn, the company said.
Plane-loads of buyers
In the meantime, while those agreements take shape, an important source of revenue has been off-plan sales of apartments, and these have flown off the shelves.
The first few towers are only still going up, but so far Forest City has sold nearly 17,000 units, netting around $2.9bn, reports Hong Kong's South China Morning Post. Seventy percent of those sales have been to Mainland Chinese buyers, according to the Straits Times.

Aerial view of construction progress as of December 2016 (Youtube)
Middle class Chinese buyers are attracted to the luxury tropical setting located just a stone's throw from Singapore, and by Singapore's promise of jobs and international schooling. But most of all they are attracted by the prices of Forest City's units, which are a fraction of what similar-sized pads cost in downtown Shanghai or Beijing.
Sales agents brought prospective buyers in by the bus- and plane-load.
"It's staggering how quick these Chinese make decisions. They don't hesitate," a real estate journalist who went along on one of these buying expeditions told Chinese state-owned newspaper, Global Times. "The seven families I went with bought six apartments, and they signed the contracts so swiftly. Two families didn't even bother to check out what the model units looked like."
Crack down
But the Chinese government hit the brakes at the end of 2016, tightening restrictions on capital outflows for foreign property in order to support its troubled currency, the yuan, and to protect its foreign exchange reserves.
By January 2017, the amount Chinese firms invested in offshore properties had fallen by 84% compared to a year earlier, according to figures from China's commerce ministry.
Individuals were also hit by restrictions, being allowed now to exchange only up to $50,000 worth of yuan into foreign currency in a given year, reports South China Morning Post. China also clamped down on how people can use their credit cards abroad.
Forest City buyers are now feeling the pain.
Like the teacher Zhang Guanguang above, Vicky Wu, a 42-year-old professional from Zhuhai, has been asking Country Garden for a refund of the $15,650 she paid as a 10% deposit for a 59-sq-m flat.
"The salesman is chasing me for instalments but I'm hesitating," Wu told the Post. "I'm worried about being put on the government blacklist."
Country Garden's hastily rebranded international exhibition centre opened on 14 March (Country Garden)
Another buyer told the newspaper: "I have a 400,000-yuan instalment due, which could exceed the limit allowed by the government, but the [Country Garden] salesperson asked me to bring several [credit] cards to complete the payment.
"I feel this could violate the law at the height of the crackdown campaign, but every time I ask the salesman if this is illegal, she becomes silent," she said.
Penalties, or not?
At first, Country Garden offered soothing words to the buyers by promising refunds. In March Zhu Jianmin, vice-president of Country Garden, told the Post that buyers who made down payments "can cancel the transaction and there is no need to pay a forfeit fee".
Zhu stressed that Forest City always abided by the rules of both Malaysia and China, and that only about 5% of buyers were considering withdrawing their purchase.
But last week the company appeared to reverse its position, saying in a statement reported by the Straits Times that: "In the event of home booking cancellation, we would also like to clarify that cancellation after a sales and purchase agreement has been signed is deemed as a breach of contract."
The company added that the penalty would range between 10-30% of the purchase price, but would only apply to "certain promoted residential units".
How Forest City will be affected by Beijing's capital freeze is not yet clear. Analysts told the Straits Times that even if only a fraction of buyers seek a refund it may lead to a slowdown in the whole development, especially since the Johor Bahru area has seen an explosion in residential development in recent years, prompting concerns of oversupply.
Sorry, not for you
Country Garden must now find great numbers of apartment buyers elsewhere in the world who are as eager as the middle classes of China.
It is certainly trying. On Friday 10 March, in a scramble to comply with the new mood in Beijing, the developer shut its Forest City sales offices in Beijing, Shanghai, Shenzhen and Guangzhou and, after several days of "intense upgrading", re-opened them on 14 March rebranded as "international exhibition centres" or "IECs" to appeal to foreign businesses and people in those cities.
"No longer merely sales & marketing centers, IECs have become a vital platform for global brand and display of international developments," Country Garden enthused in a press release.
The company refuted suggestions that the hasty rebranding was a "knee-jerk reaction" to the new policy, but did admit in a Chinese-language statement seen by Reuters that it was intended "to better fit with current foreign exchange policies and regulations" and diversify its development strategy.
Stay home
While Country Garden has promoted Forest City as a green, pleasant and affordable place to live, it is now emphasising the business end of the scheme, even casting it as a fulfilment of Beijing's One Belt, One Road strategy.
On 11 March Country Garden and the Sultan of Johor signed the contract for phase two of the development, consisting of a hotel and three golf courses.
Despite the leisurely aspect of this phase, in its press release Country Garden strenuously painted Forest City as a way of accelerating the Chinese government's "international production capacity cooperation programme", saying it would attract Chinese companies and "make use of China's spare manufacturing capacity".
Whether this will appease Beijing or not remains to be seen.
Meanwhile, since 1999 China has urged its companies and people to "go out" into the world. Country Garden's challenge is how to react now that the government requires them to leave their wallets at home.
Top image: Artist's impression of the completed Forest City (Country Garden)
Further Reading: