The biggest builder in the world by turnover, state-owned China State Construction Engineering Corporation (CSCEC), has been awarded the contract to build the tallest tower in Africa, in Nairobi, Kenya.
Reflecting hopes that Kenya will soon be a major oil exporter, a named investor is oil marketing firm Hass Petroleum Group, whose $195m (Sh20 billion) Hass Towers scheme will consist of two towers: a 45-storey Hilton hotel, and a record-breaking 67-storey tower with Grade A office, retail and leisure space, Capital Business reports.
CSCEC starts work next month on the scheme in Nairobi's Upper Hill district, which is becoming a hub for international business.
The 67-storey tower, when complete in 2020, will be 300m high, beating the current record-holder in Africa – the 223-m-tall Carlton Centre in downtown Johannesburg, South Africa, completed in 1973.
Excavations have already begun on the project, which has been planned for several years by a partnership between property firm Jabavu Village Ltd and a real estate firm based in the US, White Lotus Projects.
Global engineer Meinhardt Group had been hired for lead engineering, structural and MEP services.
In October 2016 hotel group Hilton signed a management agreement with Jabavu Village Ltd to open a 255-room hotel alongside the tower.
Hass Petroleum Group said CSCEC beat 10 big companies from Europe, Turkey and China in bidding for the job.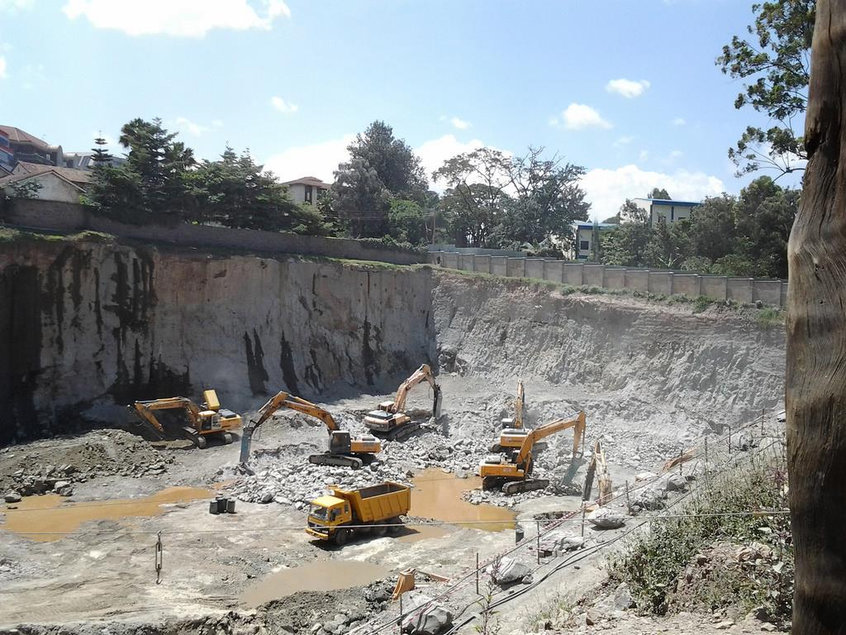 Work underway on Hass Towers' foundations (Facebook)
"It has not been an easy road," said Hass chairman Abdinassir Ali Hassan, reports Capital Business. "CSCEC went through a rigorous tender system which they won over ten international companies including European, Turkish as well as other Chinese competitors."
He added: "Hass Group awarding the contract to CSCEC demonstrates a stronger growing economic partnership between the Chinese Government and the Kenyan Government, and is a testament to Kenya's economic and political stability. This project will give CSCEC a majestic entry point into Africa."
ENR currently ranked CSCEC as the top global contractor by turnover in the world in 2016.
"This will be the tallest building in Africa and [will] become a landmark in Kenya," said Li Mingguang, Vice President of CSCEC Overseas Operations, reported Capital Business.
"It is sure to drive regional development, promote economic growth, and attract more investment and tourism into Kenya. China State Construction understands the importance of this grand project and is honoured to be chosen as the main contractor."
In recent years Upper Hill in Nairobi has become a hub for international embassies and organisations including Cisco Systems, the World Bank and the IMF.
The hotel will be Hilton's third in Kenya.
Top image: Artist's impression of Hass Towers, Upper Hill, Nairobi (Courtesy of Hilton)
Further reading: