The infrastructure struggle between India and China has so far centred on roads, railways and bases near their disputed Himalayan border in Ladakh and Bhutan, but it has now expanded to include hydropower construction.
At the weekend, reports were published in the Chinese press regarding the construction of one or more immense dams on the Yarlung Zangbo river in Tibet.
According to Global Times, the English-language newspaper of the Chinese Communist Party, the "unparalleled" construction programme could generate as much as 60GW of electricity. This would make it the largest hydropower project in history, almost three times bigger than the current record holder, the 22GW Three Gorges Dam in Hubei.
However, the Yarlung Zangbo becomes the Brahmaputra when it enters India and Bangladesh, raising concerns that it could diminish India's water security and, were it to fail – possibly as the result of an earthquake – could lead to a catastrophic 4,000km flash flood.
"We'll build one too, then"
An Indian official said this week that the country was considering the construction of a massive dam and reservoir in response, to make up for any shortages caused by China's dam on the Yarlung Zangbo.
TS Mehra, a senior official in India's water ministry, told the Reuters news agency that India may respond by building a 10GW dam in the remote northeastern state of Arunachal Pradesh.
"The need of the hour is to have a big dam in Arunachal Pradesh to mitigate the adverse impact of the Chinese dam projects," Mr Mehra said. "Our proposal is under consideration at the highest level in the government."
He added: "Formally, we are telling them that any project you undertake should not cause an adverse impact on India. They have given an assurance, but we don't know how long their assurance will last."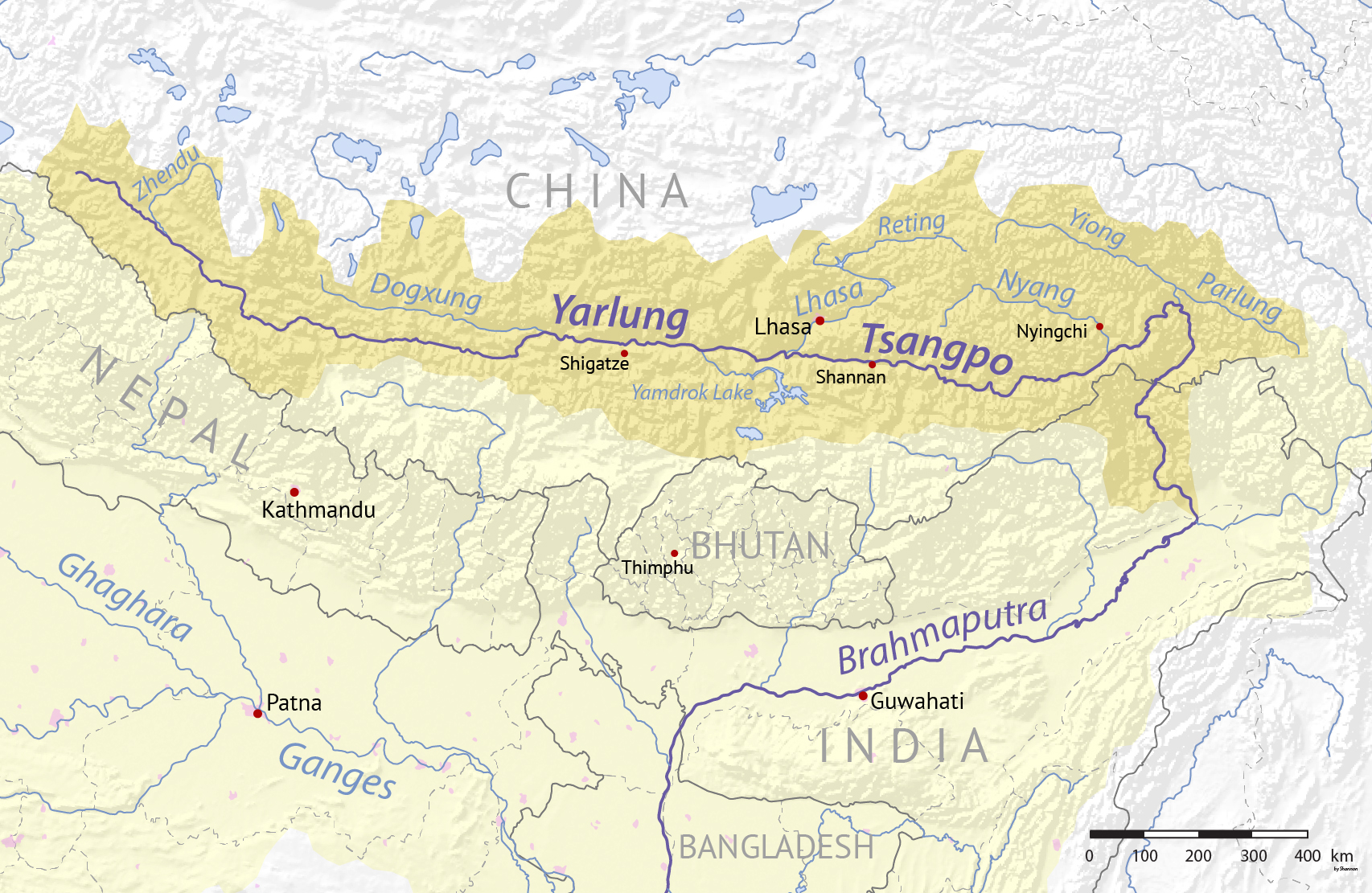 The course of the Yarlung Zangbo, which passes through the extreme northeastern Indian state of Arunachal Pradesh (Shannon1/CC BY-SA 4.0)
In Arunachal Pradesh, India is already building the $4bn, Dibang Multipurpose Project, a dam that was begun in 2008, stalled, then restarted in 2019 (see further reading). That scheme is expected to have a relatively modest output of 3GW.
"Terrestrial aggression"
Others were more outspoken. Brahma Chellaney, a specialist on India-China ties who has long been vocal on the threat of Chinese "hydro-hegemony", said: "India is facing China's terrestrial aggression in the Himalayas, maritime encroachments on its backyard and, as the latest news is a reminder, even water wars."
The Chinese scheme was put forward in the 14th five-year plan, covering the period up to 2025. Yan Zhiyong, chairman of the Power Construction Corporation, the Chinese company that will build the dams, described them as "a historic opportunity for the Chinese hydropower industry".
The proposal will now go to the National People's Congress, due to be held early next year.
India's response has drawn further comment from Global Times. On Tuesday, it ran a comment piece by Liu Zongyi, an academic at the Shanghai Institutes for International Studies, arguing that India was guilty of double standards. 
He wrote: "While India has become accustomed to using water resource issues to crack down on downstream countries including Pakistan and Bangladesh, its baseless attacks against China's planned hydro project represent nothing but 'gauging the heart of others with own mean measure'", an accusation expressed in proverbial style that India was unfairly impugning its own malign motives to China.
Conciliatory statement
On 3 December, the Chinese foreign ministry issued a conciliatory statement. This said: "The development of the project is still in preliminary planning and demonstration phase, and there is no need to read too much into it."
It added: "Over the years, China has conducted sound cooperation with India and Bangladesh in flood reporting, flood control and disaster reduction, emergency response and other aspects. China will continue to stay in touch with India, Bangladesh through existing channels."
In Bangladesh, Sheikh Rokon, secretary general of environment campaigners Riverine People, said multilateral discussion should be held before China builds any dams.
Top image: The 50km section of the Yarlung Zangbo Grand Canyon has 70 million kWh that could be developed with a 2,000m drop (Boqiang Liao/CC BY-SA 2.0)
Further reading: