21 May 2013
The Chinese environment ministry has given the go-ahead for the construction of China's tallest hydroelectric dam.
A subsidiary of state-owned power giant, Guodian Group, is to build the 314m-tall-dam on the Dadu River, Sichuan province, on authorisation by China's cabinet.
The dam is part of the Shuangjiangkou hydroelectric power project, which saw preliminary construction begin in 2008.
The Three Gorges Dam, which serves the world's biggest hydropower station on the Yangtze river, measures 185 metres.
The ministry acknowledged last week that the project, expected to take over 10 years and cost $4bn, will have a negative impact on the local environment.
But it said developers had pledged to take "counter-measures" to mitigate the effects, according to Reuters.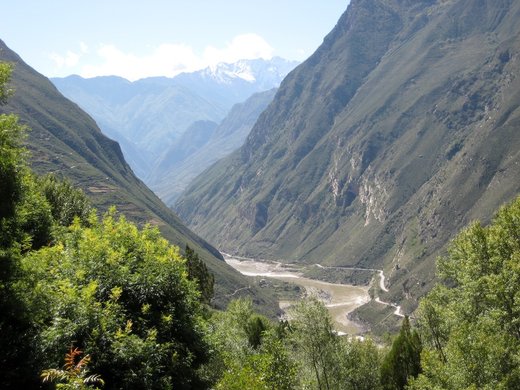 Upper Dadu River, Sichuan, China. Concerns centre on the effects of slowing a fast-moving river. (Credit: rduta/Wikimedia Commons)
Unusually in China, national media are reporting high-level criticism of the project centred on the effect of slowing the fast-moving Dadu River.
Newspaper China Daily reported Liu Shukun, professor at China Water Resources and Hydropower Institute, as saying that cascading dam projects like this harm the environment.
"The chemical, thermal and physical changes that flowing water undergo, when it is stilled, can seriously contaminate a reservoir or river downstream," he said.
But the dam is part of China's overall energy strategy. The government said this year hydropower capacity was expected to reach 290 GW by 2015, up from 220 GW at the end of 2010.
The Sichuan project will provide a total capacity of 20 GW, with an annual energy output exceeding seven billion kilowatt-hours.
China plans to have its non-fossil fuel energy production at 15 per cent by 2020, up from 9.4 per cent in 2011. This year it announced controversial plans to build on the undeveloped Nu River, Yunnan province.