Terex, the US construction machinery maker based in Connecticut, has received an unsolicited takeover bid from Chinese engineer Zoomlion Heavy Industry Science and Technology.
The bid of $30 a share values Terex at $3.3bn, according to data compiled by Bloomberg.
Terex was already in merger talks with Finnish equipment manufacturer Konecranes, so the Zoomlion move is in effect a rival bid.
The board of Terex has released a statement saying that it "has not changed its recommendation of the proposed combination with Konecranes".
However, it added that it has entered into a confidentiality agreement with Zoomlion and was in discussions over the proposal.
It issued a statement saying it was "carefully reviewing the Zoomlion proposal to determine the course of action that it believes is in the best interests of Terex shareholders."
According to company sources quoted by Bloomberg, Terex initially rebuffed  Zoomlion's offer in order to focus on completing the merger with Konecranes.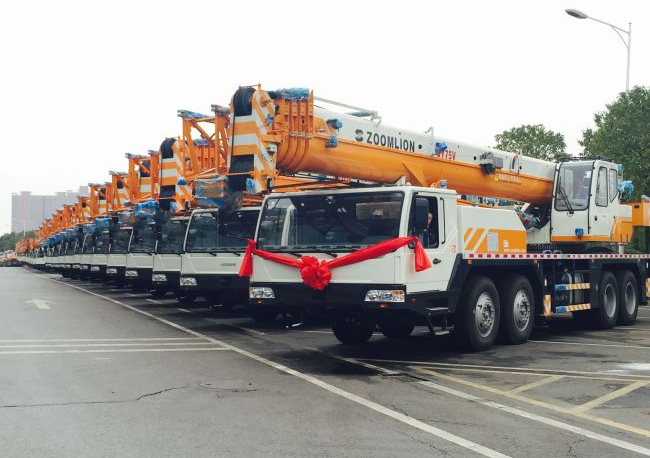 Zoomlion has been a beneficiary of China's construction boom (Zoomlion)
Konecranes and Terex agreed to an all-stock merger in August, to create a crane and materials-handling supplier with a combined sales of $10bn.
The Konecranes Terex group would have been located in Finland.
Terex had sales of $2.4bn in 2014. About 67% of its output is aerial work platforms and construction machinery and cranes, with material handling and port equipment making up the remainder.
It makes 41% of its sales in North America, 31% in Europe and 28% in the rest of the world.
Zoomlion, which had an annual revenue of $4.2bn in 2014, is China's second biggest maker of heavy machinery after Sany Heavy Industries. It is based in Changsha in central China and is listed on the Shanghai and Hong Kong stock exchanges.

Zoomlion celebrates its entry into the "Belt and Road" market at the end of last year (Zoomlion)
The company hopes to be a beneficiary of China's "belt and road" strategy.
On 31 December it marked its entry into this market with a ceremony to dispatch a complete suite of road making machinery to the Issyk Kul road project in Kyrgyzstan (pictured).
The Terex proposal is conditional on, among other things, receipt of US and Chinese regulatory approval and Zoomlion shareholder approval. Â 
One concern about the Chinese offer is that a Zoomlion takeover could face opposition from the US authorities because of their sensitivity over foreign firms operating American ports.
Top photograph: Monster machinery – a restored Terex 33-19 "Titan" on display in Canada (James Heilman, MD/Wikimedia Commons)