In what is being called the largest and first demolition of its kind in China, 19 towers were reduced to rubble in just 10 seconds in Wuhan in a spectacular demonstration of controlled implosion on 21 January.
With 120,000 precisely timed detonations, the residential towers, ranging from seven to 12 storeys in height, were brought down to clear a space for a new central business district featuring a supertall tower.
According to one expert, the operation did in 10 seconds what would have taken four months by conventional methods, reports UK newspaper The Daily Mail.
The feat was accomplished using five tonnes of explosives in a staggered series of detonations, and the buildings collapsed without damaging a neighbouring railway viaduct, shopping mall or electricity substation.
Jia Yongsheng, general director of the demolition company, told China's TV channel CCTV: "For this kind of large-scale blasting demolition conducted in the downtown area, we not only need to guarantee the demolition result, but also strictly control the adverse effects of blasting."
A video of the demolition can be seen on YouTube by following this link.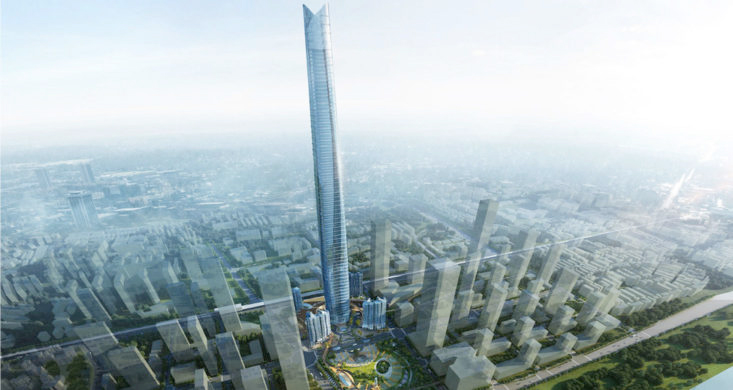 The Chow Tai Fook centre (Rider Levett Bucknall)
The financial and commercial project that will replace the housing estate will be developed by the Chow Tai Fook Group, and will be known as the Wuhan Chow Tai Fook Financial Centre. It will include the Riverfront Erqi tower, which will reach 648m in height, according to cost consultant Rider Levett Bucknall, which is working on scheme.
Arup and WSP are the engineering consultants.
Image: The big implosion (YouTube)