Thirty years after Chernobyl became the deadliest nuclear disaster in history, a Chinese clean energy giant has been selected to build a 1GW solar power plant in its exclusion zone to help revive the region.
On 26 April 1986 a massive explosion ripped the roof off the fourth reactor at the Soviet nuclear power station, located 95km from Kiev, Ukraine, spreading a radioactive dust cloud over much of Europe.
Since then the exclusion zone, comprising all land within a 30-km radius of the plant, has been deemed unevenly contaminated.
While it remains evacuated except for teams of scientists, it has become a hotspot for macabre tourism, and an unintended nature reserve as wildlife has thrived in the absence of humans.
Now, as part of the Ukrainian government's longstanding ambition to redevelop the area, Chinese clean energy giant Golden Concord Holdings Limited (GCL) has said it will build a 1GW photovoltaic power plant, working with state-owned China National Complete Engineering Corporation (CCEC).
Ukraine's minister of environment and natural resources said the exclusion zone was perfect for the project.
The "Red Forest" is a stand of conifers killed and discoloured by radiation (Timm Suess/Creative Commons)
"Its cheap land and abundant sunlight constitute a solid foundation for the project. In addition, the remaining electric transmission facilities are ready for reuse," said minister Ostap Semerak, quoted in a GCL press release.
CCEC will be the general contractor, managing the overall project, while GCL System Integration Technology (GCL-SI), a GCL subsidiary, will provide consultancy and planning services, plus the photovoltaics.
According to GCL-SI, construction of the plant will start next year and, once finished will put Chernobyl back in the global spotlight – but for positive reasons this time.
"There will be remarkable social benefits and economical ones as we try to renovate the once damaged area with green and renewable energy," said Mr. Shu Hua, Chairman of GCL-SI, in the press release. "We are glad that we are making joint efforts with Ukraine to rebuild the community for the local people."
He added that the Chernobyl project was also a "key step" on its path to international expansion.
Its Hong Kong-based parent, GCL, has assets worth nearly $16bn and shipped PV products amounting to more than 2GW in 2015, the company said.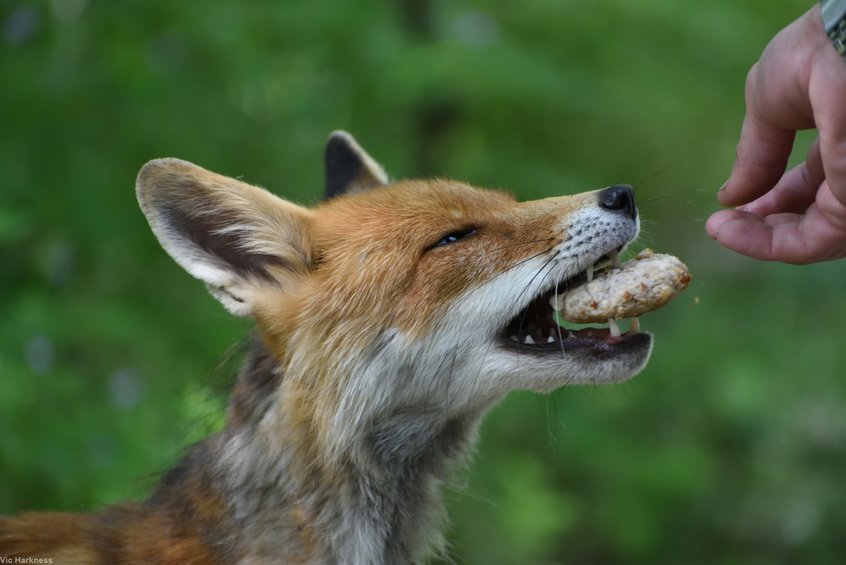 Wildlife has thrived in the absence of humans. Here, a wild fox is being fed by a tourist in the exclusion zone (Vic Harkness/Creative Commons)
In the Chernobyl exclusion zone radioactive contamination is concentrated in emergency equipment dumps made in the immediate aftermath of the disaster, and in materials remaining in the destroyed fourth reactor.
As GCR reported last week, the largest moveable land-based structure ever built had begun sliding into place over the fourth reactor to seal it.
Chernobyl is considered the deadliest nuclear disaster in history, more so even than the 2011 Fukushima Daiichi event.
The United Nations identified 49 immediate deaths from trauma, acute radiation poisoning, a helicopter crash and cases of thyroid cancer. But in 2005 a World Health Organisation study estimated that the final total of premature deaths due to cancer would be around 4000.
Top Image: Panorama of the abandoned town of Pripyat, in the Chernobyl exclusion zone (Matti Paavonen/Wikimedia Commons)