Two major city-backed urban renewal projects have struggled to get the $1.7bn they need, so they've gone to China. Rod Sweet reports.
They are the biggest development projects San Francisco has seen in a long time.
One is on Treasure Island, a 400-acre former naval base in the middle of San Francisco Bay. The plans are for up to 8,000 homes, 25% of which will be offered at below-market rates.
There will be parks, hotels, restaurants, shops and more.
The other one is even more ambitious. Over 20 years, the Hunters Point Shipyard-Candlestick development envisages more than 12,000 homes on 700 acres at a former naval base jutting into the bay.
Each development is backed by the city and each is led by national housing developer, Miami-based Lennar Corporation, with partners.
Importantly for the people of San Francisco, the developments would create jobs and, with their combined 20,000 new homes, ease a housing shortage that is pushing rents for small apartments to more than $2,000 per month.
But no US banks will lend them the money they need to start building.
Since the autumn of 2011 Lennar has been in talks with the state-run China Development Bank to secure a loan for $1.7bn to kick-start the developments.
It's a clear example of how global economic power is shifting east – or, strictly speaking for San Francisco, west.
Treasure Island, a former naval base in San Francisco Bay, is one part of a development plan for 20,000 new homes.
But for the Chinese, who spend freely in the developing world, particularly Africa, negotiations over this relatively modest loan have proved tricky.
Various newspapers have reported sources close to the talks as saying that a sticking point is China's usual modus operandi for overseas investment: its requirement that the work be done by a Chinese firm, in this case the giant, state-owned China Railway Construction Corporation (CRCC).
While San Franciscans are desperate for investment, the idea of their prized developments being built by an army of Chinese labourers, tradesman, engineers and site managers housed in special camps while America's unemployment rate stands at over 7% may be too much.
Even to have asked China for the money has been a shock for some.
"I'm extremely disappointed that they had to go outside the United States," said San Francisco Labor Council Executive Director Tim Paulson, speaking to a newspaper last June. "I just think it's incredibly ironic that the Chinese financial institutions are more interested in jobs and housing than American corporations."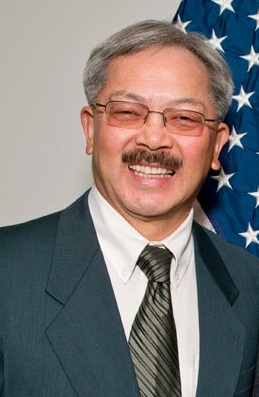 San Francisco's mayor Ed Lee
More likely than vast Chinese work camps, however, is some form of joint venture between a Chinese company and an American one, or a management role that would lift the Chinese firm's prestige in America, and beyond in the developed world.
Promoting the idea in an editorial published on 4 July (Independence Day) last year in the San Francisco Chronicle, head of the city's chamber of commerce, Steve Falk, and Vince Courtney, from the Alliance for Jobs and Sustainable Growth, spun it this way: "While the construction work may be managed by a global business based in China (with US headquarters in San Francisco), the design and construction jobs will be filled by American workers."
Whatever the misgivings, though, San Francisco wants this money.
Its mayor, Edwin Lee, spent the first week of April in China on an official tour that included meetings with Chinese officials in an attempt to move the deal along.
It's significant that Mr Lee is himself of Chinese descent, and San Francisco's first Chinese mayor. He is reported to be respected by China's political leaders and people at the China Development Bank.
In China, he'll be meeting America's ambassador to China, Gary Locke, who is also of Chinese descent.
If the stakeholders come to terms on this deal, it could provide a model for much more Chinese investment in the US, particularly in infrastructure.
There is plenty of room for that relationship to grow. US research firm Rhodium Group reports that Chinese investment in the US has surged from less than $1bn in 2008 to $6.5bn in 2012 – but still some distance behind its investment of around $12bn in the European Union in 2012.
Writing in their Independence Day editorial, Steve Falk and Vince Courtney called it a shame that American banks were unwilling to invest.
"Our infrastructure is crumbling, yet the local, state and federal funding programs to rebuild America are held captive by politics, bureaucracy and a weak economy," they wrote, concluding, "we should willingly accept [China's] capital on our shores."