A subsidiary of China Railway Group has offered to build a tunnel between Sweden and Denmark. The "HH Tunnel" would run between Helsingborg in Sweden and Helsingør in Denmark, about 30km north of the Öresund Bridge.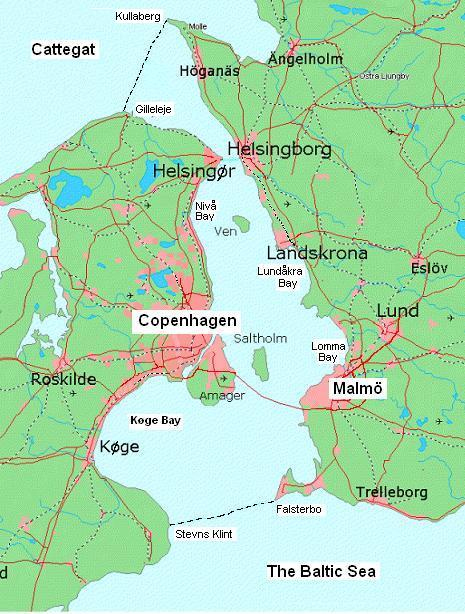 The site of the proposed tunnel
China Railway Tunnel Group (CRTG) has held three rounds of discussions with Helsingborg council about its proposals since autumn 2017, and has sent representatives to the city to review existing engineering studies.
The cost of the tunnel has been put at somewhere between $3.3bn and $4bn.
CRTG will now produce an engineering report, which it will present to authorities in the spring.
Renée Mohlkert, the business director of Helsingborg council, told the News Øresund agency that CRTG was financing the investigation itself. He said: "Of course, we think it's really exciting for anyone who wants an HH connection. We've given them the information and they investigate the possibilities. They are doing it entirely for our own sake, we have not procured anything."
Sweden and Denmark are presently conducting their own studies into an Öresund metro, which the Chinese report will complement. Research is being funded by the EU's Interreg Programme.
The hope is that if there were a 15-minute metro link between the two cities, they would be able to integrate their economies and labour markets. It would also be part of the expansion of Greater Copenhagen, and may be linked to that city's metro system in the future.
China has been actively courting infrastructure schemes in Scandinavia. Earlier this month GCR reported that a Chinese trade body may invest in a multibillion-euro high-speed rail link under consideration between Norway and Sweden.
Top image: The Hamlet plies between Helsingborg and Helsingør – Shakespeare's Elsinore (Hakandahlstrom/Creative Commons)
Further Reading: