As Myanmar's political paralysis and isolation clears, construction there looks set to take off. David Smith reports.
When Nobel laureate and democracy activist Aung San Suu Kyi gets criticised inside Myanmar for not doing enough for peace and justice in the country, you know things have changed.
In January, rights groups in Myanmar (aka Burma) called on Suu Kyi, now official leader of the opposition, to use her international standing to help end violence between ethnic minority groups and the government.
It's a sign of dramatic new times in a country paralysed for decades by dictatorship and international isolation.
In fact, construction has already taken off, with volume growing, according to one report, by 15% a year recently – although much of that activity was caused by an exuberant government splashing out on the new capital city of Naypyidaw.
"The government spent fantastic amounts on new buildings and statues to military leaders," report co-author Danny Richards, senior economist at Timetric, told GCR.
But underneath lies the conditions for solid growth, fuelled by tourism, foreign investment and a new open-door mindset.
While construction stats have been boosted by big one-offs, such as a new oil and gas pipeline across Myanmar from China to the Bay of Bengal, deeper trends are evident.
"You see so many lovely roads and hotels you wouldn't believe you were in Myanmar," Mr Richards said. "The country is opening up to investor interest and anticipating massive growth in tourism.
"This will expose a lack of hotel rooms, a lack of office space and infrastructure weaknesses."
The Timetric report says the construction industry will increase in value at a CAGR of 7.84% from 2012 to 2016.
Particularly strong sectors are infrastructure and housing, which together generate 80% of the growth, the latter driven by an expanding middle-class.
Tourism is booming. For years, the military dictatorship put visitors off, but more than a million tourists visited in 2012, according to Myanmar's tourism ministry, up from around 800,000 in 2011. If low-cost airlines took a punt on Myanmar, the numbers would increase dramatically.
A new investment law passed late last year allows foreign firms more flexibility in ownership, and offers tax breaks and more secure land leases.
Overall, Myanmar is throwing open its doors in a way that would be hard to imagine five years ago.
In December it will host the 2013 Southeast Asian Games.
In 2014 it takes over as chair of ASEAN, the Association of Southeast Asian Nations, which means it will play host to many meetings in the regional body's yearly round of conferences.
The influx of visitors will increase demand for hotel rooms and related amenities, and Timetric expects commercial construction to grow by more than 8% on the back of it.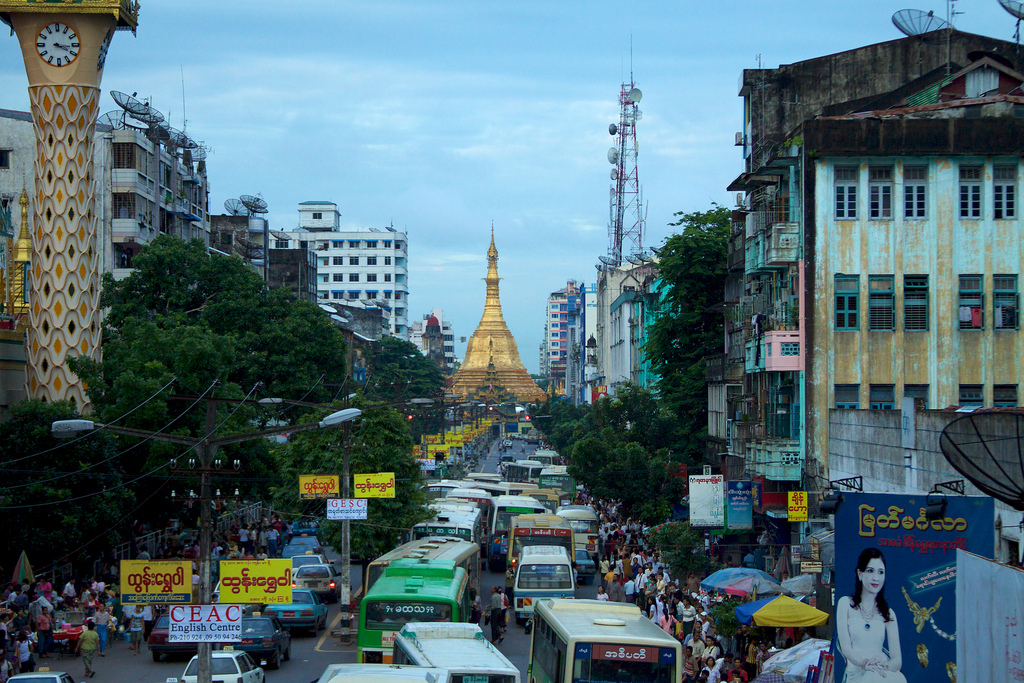 Yangon city, Myanmar. (Credit: mckaysavage)
The figures are striking, but Myanmar is starting from a very low base, especially in infrastructure. The CIA ranks the country way down at 101st in the world in terms of its infrastructure quality, and estimates that only 3,200km of its 27,000km of roads are paved.
A military dictatorship more or less since 1962, Myanmar has been steadily easing its way out of the cold and into the international system.
It held allegedly democratic elections in 2010 and in the same year released from house arrest democracy activist Aung San Suu Kyi.
She was elected to the lower house of Myanmar's parliament in April 2012. As head of the National League for Democracy party, she is the recognised opposition leader, and now almost an establishment figure – hence the criticism.
The new openness was symbolised by visits in 2012 by both US President Barack Obama and UK Prime Minister David Cameron.
The government's strategic thaw has paid big dividends. Newly credible Myanmar has persuaded creditors in the Paris Club to cancel half of the debt it owes them.
In January, the Asian Development Bank (ADB) said the arrears owed to it had been cleared with the help of Japan so it could resume operations in Myanmar. It offered a $512m loan for social and economic projects.
The World Bank also said Myanmar had paid its debts, again with the help of Japan, and responded with a $440m loan. On top of that, Norway has cancelled a $534m debt and Japan has cancelled more than $3bn.
"The country's huge debts were holding back investment," said Mr Richards. "Japan's loans, especially, will allow much more investment in infrastructure, schools and hospitals.
"Over the next 10 years there will be a lot of donors flooding money into Myanmar and there should be huge spending."
China and Japan dominate foreign investment, but Mr Richards sees opportunities for other firms willing to take a gamble.
"There's lots of domestic resentment of the economic dominance of China," he says, "so there's a growing openness to Western involvement. The government will use the West as a bargaining chip with China to create competition for opportunities."
There are still concerns about the rule of law and corruption, so many would-be investors will wait and see. But some will seek the first-mover's advantage.
"The opportunities for Western firms at first will be in the supply of equipment and materials rather than going and doing jobs on the ground.
"But in five years, it could be a vastly different picture with a lot more opportunities available, especially as the regulatory environment improves," he said.
David Smith is a regular contributor to CIOB journals. He writes more on Myanmar's economy and regional relations here