The Spanish and Chinese consortiums bidding to build the $12bn first phase of the largest infrastructure project in African history have been asked to stop competing and come together to do the work.
Because of "issues at stake" and "developments of the market", the two should combine and submit an "optimised offer", the Agency for the Development and Promotion of Grand Inga (ADPI) announced yesterday.
The bidders are Pro Inga, led by ACS and Eurofinsa, both based in Madrid, and Chine d'Inga, led by China's two largest hydropower companies, Three Gorges Corporation and Sinohydro.
Inga 3 Basse-Chute Project will be the DRC's first modern dam on the Inga Falls complex. It is expected to produce 4.8GW of electricity, almost double the country's present installed generating capacity.
However, Inga 3 is just the overture to what would be the largest power generating project on Earth: a $100bn complex of dams on the lower Congo that could generate between 40 and 50GW of electricity.
ADPI says that Inga 3 alone would produce energy that would "satisfy the demand of the people and the industries of the DRC and the Republic of South Africa, under the treaty entered into between the States in 2013, as well as the wider African market demand".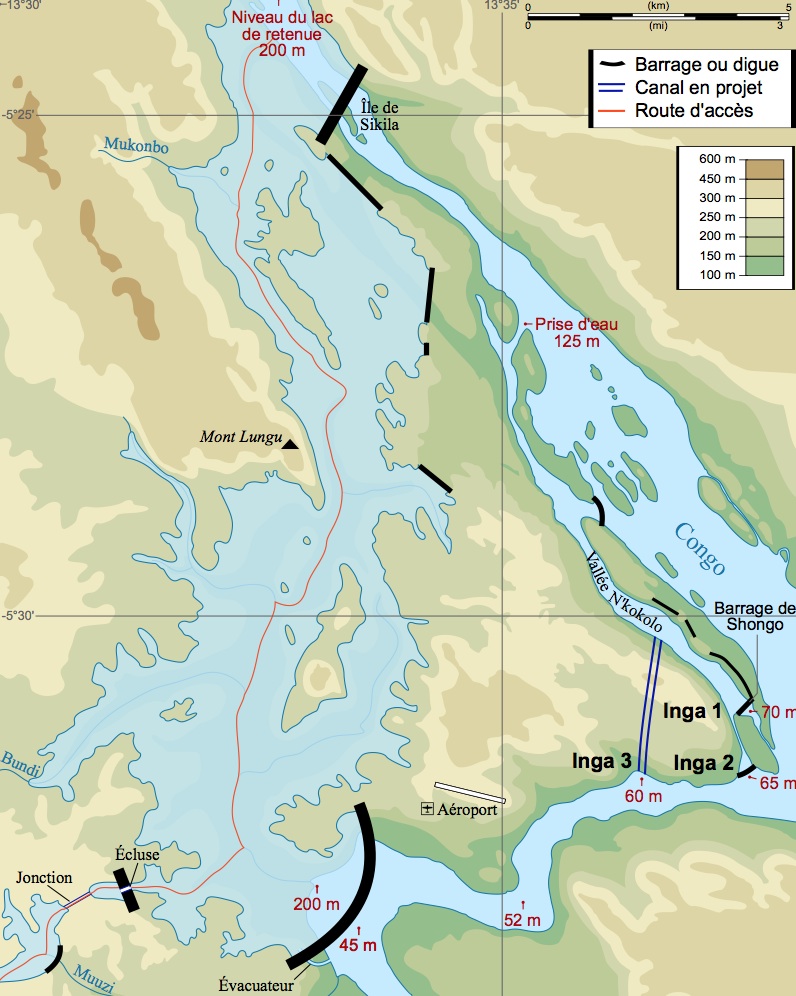 The location of the Inga 3 showing the "basse-chute" tunnel that the water will flow down (Wikimedia Commons)
Over the course of 2016 the prospects of beginning work on the project ebbed and flowed. In May, the Chinese consortium promised to complete the work in four years if it was allowed to "do what it wanted".
However, in July the World Bank issued a statement saying it had "suspended disbursements" following the Congolese government's decision to take the project in a "different strategic direction to that agreed between the World Bank and the government in 2014". Usually, such a withdrawal of support by the World Bank makes it all but impossible to obtain finance for construction schemes from capital markets.
Eleven teams expressed interest in Inga 3 when it was announced in 2010. Of the three that submitted bids, a South Korean consortium made up of Posco and Daewoo in partnership with Canada's SNC-Lavalin withdrew in March 2016.
The Inga Falls is unique because it allows hydropower dams to be built near the mouth of the principal river of a continental basin. Usually dams can only be built in upriver locations, where the valley is narrower.
About 42 million tonnes of water flow through the lower Congo every second, the second greatest volume after the Amazon.
 
Image: A view of the the existing Inga 1 dam (Alaindg/Wikimedia Commons)
Further reading: