Construction on the $13bn Beijing Daxing International Airport is due to be completed by the end of June 2019.
The project, which has been fast-tracked, will have the world's largest terminal at approximately 670,000 sq m, along with seven runways and 78 gates.
The Beijing Municipal Commission of Transport said all other construction work has been completed, but two expressways to the airport are yet to be completed.
These are the Airport Expressway linking it to South Fifth Ring Road, and the North Line Expressway, connecting it to Hebei province and Beijing.
The Airport Expressway is a 27km-long eight-lane motorway. Construction started in November 2016 and was primarily completed in December 2018.
North Line Expressway will be 24.5km long. Construction on the project began in December 2017.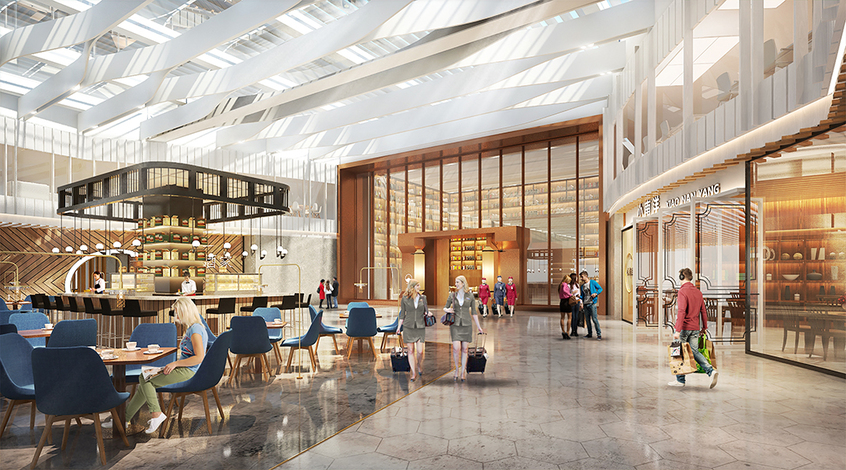 Lead 8's render of the commercial terminal (Lead 8)
Xinhua notes that the airport was due to open to the public before September 30 this year.
The airport's main terminal was designed by engineer ADP Ingénierie, a subsidiary of Aéroports de Paris, and Zaha Hadid Architects, and the commercial terminal was designed by Lead 8.
The main terminal will have an initial capacity of 45 million passengers a year; it can be upgraded to handle more than 100 million.
Yesterday GCR reported that Germany's thyssenkrupp Elevator had won an order to supply the main terminal building with 155 elevators and 22 escalators.
Dubai developer Emaar signed a memorandum of understanding with Beijing New Aeropolis Holdings to jointly develop a business and tourism complex close to the airport.
Corrected 9 July 2019 to identify ADP Ingénierie as the designer
Top image: Render of the main terminal complex of Daxing International Airport, Beijing, designed by Zaha Hadid (Zaha Hadid Architects)