A Croatian shipyard this week completed the last of 63 gargantuan steel gates that will protect the sinking city of Venice from rising sea levels, helping to secure its future.
Work on the epic €5.3bn "Mose" flood prevention project began in 2003.
Once the final gate is delivered and fitted into its concrete foundations on the bed of Venice's lagoon, its three inlets – the Lido, Malamocco and Chioggia – will all have moveable barriers to isolate the ancient trading city from the alta acqua spring tides of the Adriatic.
Brodosplit's gates being floated to their destination (Brodosplit)
Each of the inlets can be closed or opened separately, allowing authorities to respond flexibly to the conditions.
Fabricated in the Brodosplit shipyard in the city of Split, the steel gates are each up to 5m thick, 30m long and 20m high, and they weigh 300 tonnes. They were transported by barge across the Adriatic from Split and towed into position by tug.
The gates are hollow, and the system works by filling them with air to raise them or water to lower them. When they descend, they are protected by rubber fenders. They have a design life of 100 years.
The shipyard won an international completion to seize the €70m order (Brodosplit)
Mose is short for modulo sperimentale elettromeccanico, or experimental electromechanical module.
Brodosplit won the €70m contract in a global tender, competing with numerous shipbuilders and steel structure manufacturers.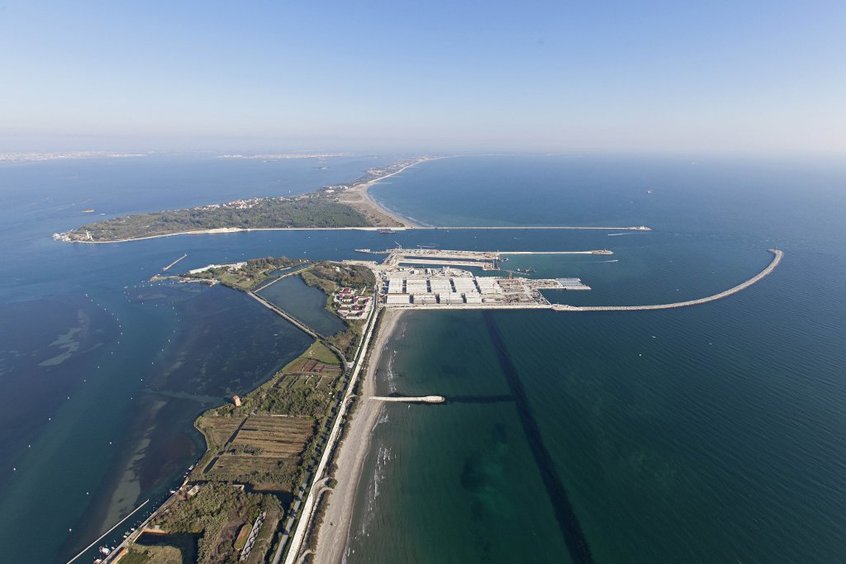 Aerial view of Venice lagoon's Malamocco inlet, one of three
This week it celebrated crossing the contract finish line, saying: "Brodosplit will remain permanently listed on the list of companies participating in one of the largest construction projects in Italy's history and contributing to the rescue of Venice from the major problems caused by the tide."
Venice in its lagoon (Brodosplit)
Brodosplit was assisted by the Faculty of Naval Architecture in Zagreb, where tests were conducted.
Top image: One of the 63 gates leaving the fabrication shed (Brodosplit)
Further reading