In October, former Atkins chief executive Keith Clarke told a construction technology conference in Singapore that executives should forget about their pensions if global temperatures rose beyond 2°C in the next 20 years, and instead should "buy a shotgun" because there would be "mass migrations, upheaval and extinction". 
He referred to last year's report by the Intergovernmental Panel on Climate Change warning of severe impacts to human wellbeing and security if global warming exceeded 1.5°C above pre-industrial averages between 2030 and 2052.
Warming of 1.0°C has already happened, it said, and limiting it to 1.5°C by 2030 would require immediate and wholesale changes to the way the global economy functions.
In human history, the speed of the required transition has only been seen in wartime. In terms of scale, it has never been seen before.
Sounding a dissonant note at an event promoting technology, Clarke said: "Technology is going to come to your site. The question is, does science come to your boardroom?"
But what can construction do?
If industry wanted to heed Clarke's advice, six ways it could get started are put forward in a study published in October by Arup, the University of Leeds and the international cities network, C40 Cities.
They are:
Use materials more efficiently;
Use existing buildings better;
Switch to lower-emission materials;
Use low-carbon cement;
Recycle building materials and components;
Use low-emission construction machinery.
Taken together, these changes could cut emissions from the process of procuring and constructing buildings and infrastructure by 29% in what the study called a "progressive" target, and by 44% in what it terms an "ambitious" target. 
Each measures is a stretch on its own, and doing all six might seem impossible any time soon. 
But the study makes the case that the industry should try because emissions from building and infrastructure construction are expected to form the single largest category of what the authors call "consumption-based emissions" in the world's biggest cities from here to 2050, accounting for nearly a quarter (21%) of all consumption emissions in the period. 
Let's look at each of the six in some more detail.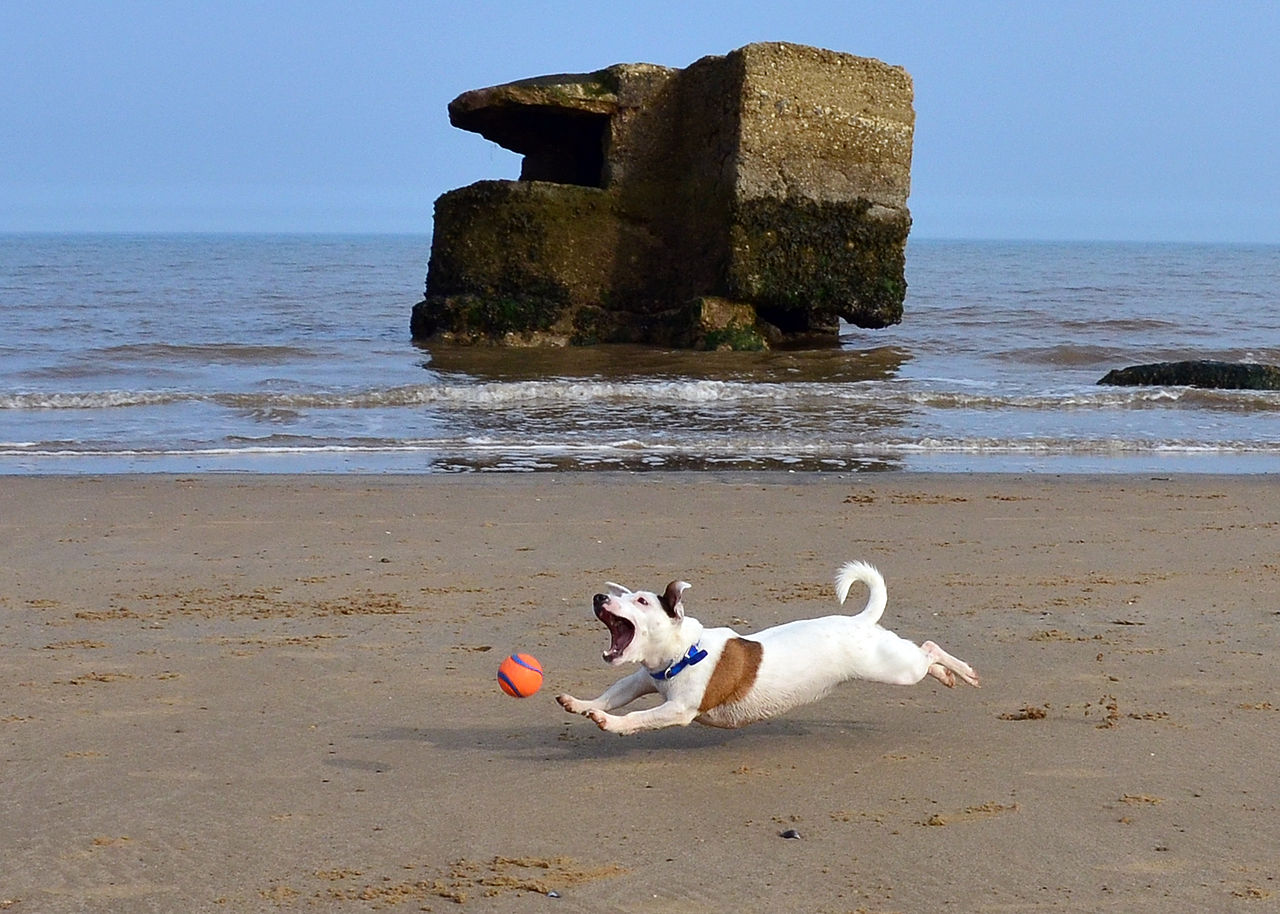 Image by Steve-65/CC BY-SA 3.0
1) Material efficiency
The idea here is that we're using more concrete, steel and other carbon-intensive material than we really need to.
This was borne out by a 2014 Cambridge University study that analysed more than 10,000 structural steel beams in 23 UK buildings and found that, on average, they carried only half the load they were designed for. 
Researchers concluded that instead of optimising design, structural engineers repeated design elements to save time, confident they were well within safety codes.
The current study calls for a fresh look at avoiding excessive structural material, a result sometimes of over-specification. Structures don't have to shrink, say the authors, but materials should work harder to support them.
Material use could be rationalised through modular components with standardised shapes and connections, they say.
Cutting the amount of steel by 20% and cement by 32% would be a "progressive" target, and could yield emissions reductions of 11%. Cut steel and cement use by 35% and 56%, respectively, and an "ambitious" target of an 17% reduction could be achieved, the study says.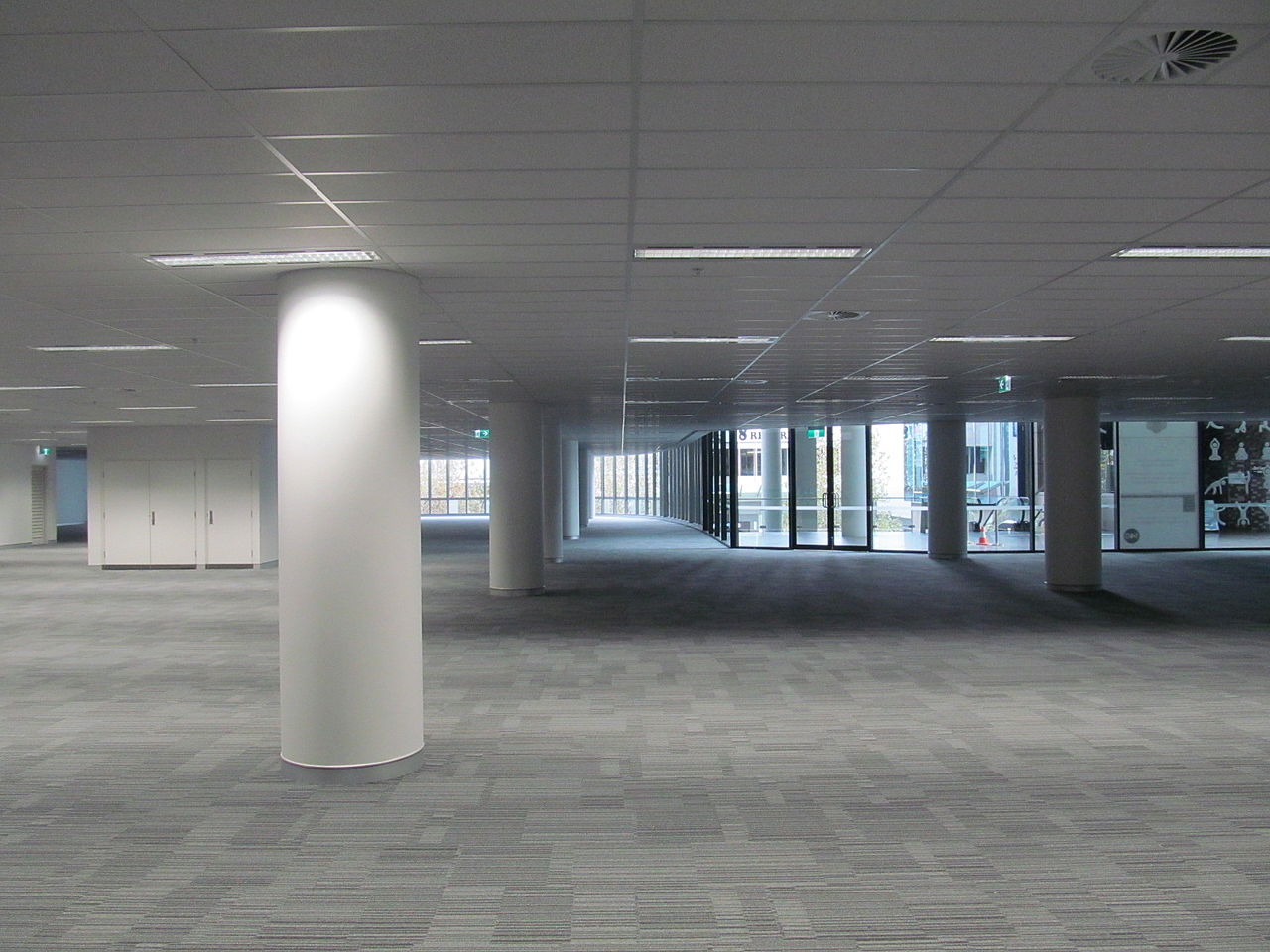 Vacant office space, 2013 (Orderinchaos/CC BY-SA 3.0)
2) Use existing buildings better
This measure goes beyond the remit of the contracting and design supply chains, but it makes sense.
The study maintains that buildings are underutilised, an argument supported, for instance, in the realm of housing in England where, as of October last year, the number of long-term vacant dwellings stood at 216,186, while in the first quarter of this year 70,430 households were assessed homeless or threatened with homelessness.  
Owners and clients should be encouraged to question the impulse to call a new building into being, and instead consider refurbishment and repurposing.
Architects could design homes and buildings in a way that facilitates future changes of use, from residential to commercial, for instance, or the other way around.
A progressive target would be to cut demand for new buildings by 10%, while an ambitious target would be to cut demand by 20%. This could yield emissions reductions of 7% in the first instance and 11% in the second, the study says.
A nine-storey timber building in Kajstaden, Sweden (Photograph by C.F. Møller)
3) Switch to lower emission materials
The biggest win here would be to use sustainable timber as a primary building material instead of structural concrete and steel.
The benefit of timber is that trees absorb carbon from the atmosphere, so growing more to build could have a net carbon reduction effect.
Timber structures are lighter, as well, and so potentially require foundations of diminished mass, saving on concrete.
Encouragingly, this is already happening. Developers in several countries are racing to build the tallest tower with timber, or with a mix of timber and steel or concrete. 
Driving the race is the development of "mass timber" techniques such as cross-lamination or glue lamination, which fuses layers of timber together to create structural elements like posts, beams and panels that compete with concrete and steel in terms of load-bearing capacity.
It is a trend that seems set to continue. In October, armed with €10m in EU funding, a consortium of 21 European companies and organisations formed to try and make timber the material of choice for multi-storey buildings instead of steel and concrete.  
They plan to develop standard, industrialised timber building systems, while documenting the environmental and economic benefits.
However, the study authors point out that timber construction is a viable strategy only in places where local forests are sustainably managed.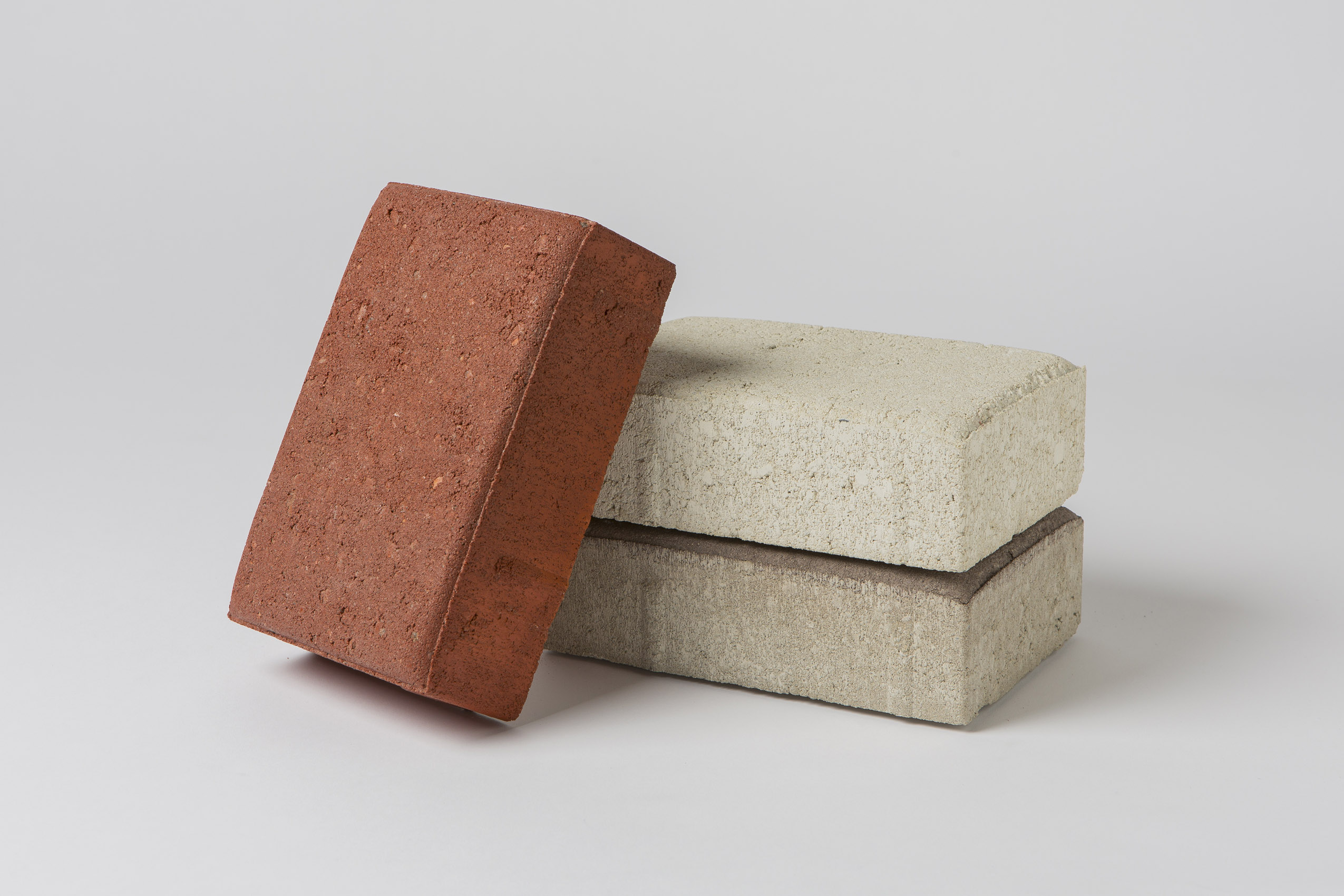 Solidia Technologies says its concrete has a 70% smaller carbon footprint (Solidia Technologies)
4) Develop low-carbon cement
Because its production requires limestone to be heated to extreme temperatures, cement is a big beast in the menagerie of polluters. Chatham House calculates that more than four billion tonnes of cement are produced each year, accounting for around 8% of global CO2 emissions. 
Advances in this field are under way, though at an early stage. In August, the US manufacturer of precast concrete paving slabs, EP Henry, agreed to start using a patented low-carbon cement produced by LafargeHolcim and concrete technology start-up Solidia Technologies.
The study authors said an ambitious target would be to reach 61% reduced carbon intensity with low-carbon substitutes for Portland cement, which could contribute to a 6% overall reduction in construction's emissions.
Waste metal construction materials discarded at a railway station in Chennai, India, March 2019 (Rakesh.5suthar/CC BY-SA 4.0)
5) Recycle building materials and components
This is a tough one, as it targets the way the global construction supply chain is fundamentally organised.
Construction and demolition waste, or CDW, is one of the biggest waste streams in Europe, accounting for up to 30% of all waste generated in the EU. 
That means everything from concrete and insulation to bricks, gypsum, wood, glass, metals, plastic, solvents and asbestos.
If we could recycle most of that, we could cut the emissions caused by the mining and manufacturing needed to produce the materials in the first place.
Cities are starting to think about this. In 2017, Amsterdam realised its buildings and structures contained so much metal that they could be thought of as "urban mines", ripe for future exploitation, and commissioned a study to survey how much steel, copper, aluminium and zinc might be there for the taking. 
There are major hurdles, however. One is the cost and effort of separating out valuable materials that are fused within other materials, as in the case of steel rebar, or cladding systems.
Also, to make buildings largely recyclable, they need to be designed for easy dismantling, which would require a mindset shift across the board among architects and manufacturers.
It would help if building components were standardised and modular, but there would also need to be a developed market for buying and selling used components.
It's easy to imagine a construction industry operating in this way, but it bears little resemblance to the one that exists today.
Perhaps for this reason the targets suggested by the study for material and component recycling are modest. The progressive target of an 11% reduction in virgin metal and petrochemical-based materials would yield an emissions reduction of 2%, the authors say, while an ambitious target of cutting their use by 22% would cut emissions by 3%.
Caterpillar's prototype electric excavator, being trialled by Norwegian contractor Veidekke (Veidekke)
6) Low-emission construction machinery
This could be easy win for construction because plant manufacturers are already on it, with Caterpillar and Volvo among those developing electric diggers.
Adopting low- or zero-emission construction machinery, through electric vehicles and biofuels, would cut emissions from construction sites, the authors say.
They estimate such emissions represent up to 10% of total production-based emissions in cities and, because these emissions are in populated areas, the health impacts are greater.
They do not allocate an emissions-reduction target to this measure, however, because there are no data currently available to quantify it. It is a knowledge gap in the field, they say.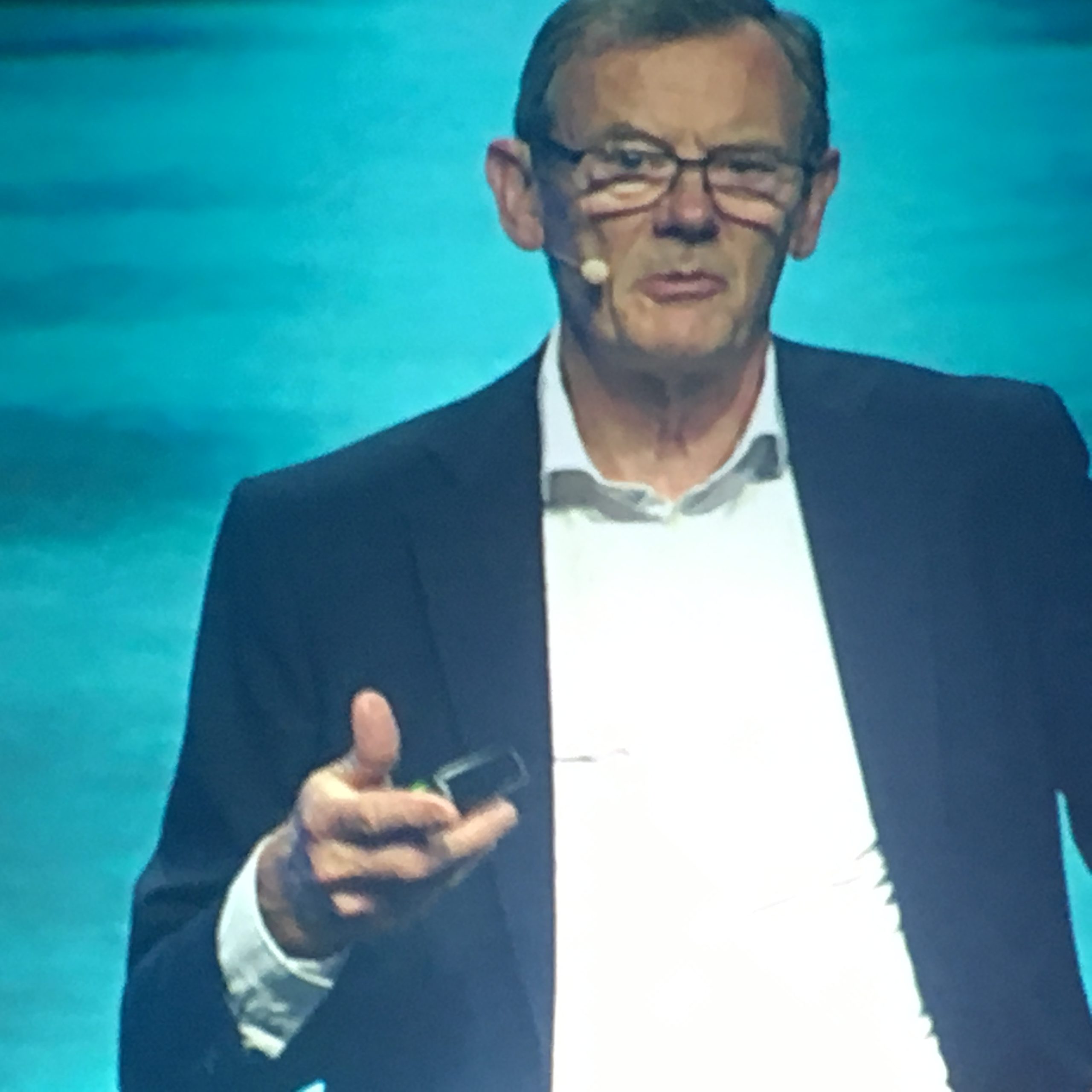 "Buy a shotgun": Keith Clarke addressing Bentley Systems' Year in Infrastructure conference, 24 October 2019 (Rod Sweet/GCR)
The way we build matters a great deal. The study's authors quote the UN's Department of Economic and Social Affairs' prediction that, by 2050, the global urban population will have increased by 2.5 billion people, meaning the global industry will build a city of more than 1.5 million people every week for the next 30 years.
In Singapore, Keith Clarke said $30 trillion worth of infrastructure assets are set to be built around the world between now and 2030 – equivalent to six times the existing infrastructure and buildings in Europe now.
Only by cutting emissions can we avert disaster and, as Clarke said: "There are no pathways to getting there without all aspects of the economy doing their bit."
Top image: Could we do this differently? Apartments under construction in London, UK (Kleon3/CC BY-SA 4.0)