The much-heralded era of 3D-printed buildings took a tiny step closer this month with what is being claimed as Europe's first printed, inhabitable building – a small, single storey office structure in Nordhavn, Denmark.
The main structure of the less-than-50-sq-m flat-roofed building, which will contain rentable hot-desking spaces, was reported to have been complete after 50 hours printing time on 21 November by the 3D Printing Industry news site.
Called Building On Demand (BOD), the curvy workers' enclave is a demonstration project by Danish company 3D Printhuset. It was printed on site by a printhead squirting a cementitious material supported by a gantry measuring 8m x 8m x 6m.
Foundation and preparatory work began in September and the building was due to be opened for use yesterday, but the team ran into trouble with "severe difficulties with the whole material handling prior to printing", which caused equipment failures, 3D Printing Industry reported.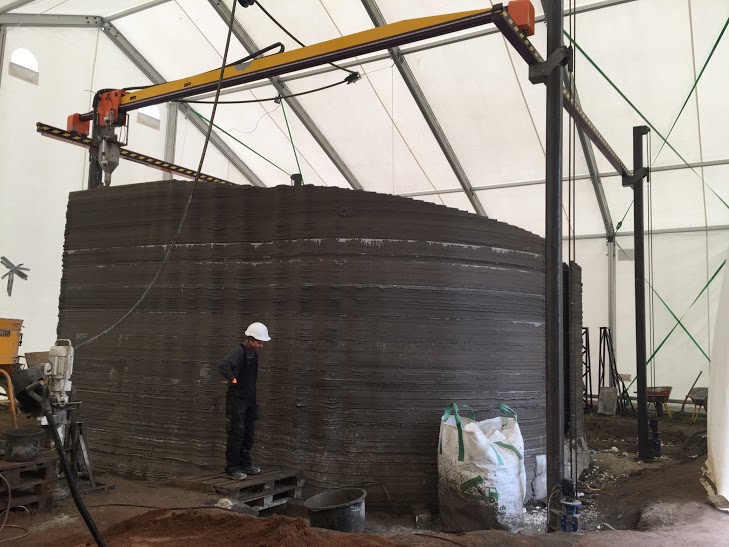 The structure nears completion on site (3D Printhuset via 3D Printing Industry)
That means BOD's planned opening will be delayed as fit-out and finishing proceeds.
In spite of the delay, 3D Printhuset hopes BOD will shake up the way buildings are constructed.
"We hope to inspire others with this project and welcome any chance to discuss with interested parties how 3D construction printing can be applied in Europe on a grander scale," said the company's chief executive Henrik Lund-Nielsen at the start of the project.
He added: "The construction sector is ripe for disruption, so let's get going."
A video of the printing of BOD can be seen here.
Top image: Render shows what the completed Building on Demand in Nordhavn, Denmark will look like (3D Printhuset)
Further Reading: