It's being called a "transformational" infrastructure project that will eliminate 3 million car trips – and a "re-envisioning" of rail travel in America.
All Aboard Florida, the company developing what it claims is the only privately-owned and operated passenger railway in the US, this week unveiled the name and brightly-coloured branding of the service it plans to open in 2017.
"Brightline" is the name for the new express rail link running 235 miles along the eastern coast of the Florida panhandle joining up the four cities of Miami, Fort Lauderdale, West Palm Beach and Orlando – the latter at Orlando International Airport (OIA).
Doing all it could to increase the railway's appeal to a car-loving public and to "re-envision train travel", the developer brought in award-winning architect David Rockwell to work on the brand name and logo, plus the interiors and exteriors of Brightline's trains and stations.
The result are bright red, orange, yellow, pink, green and blue trains (pictured) which, according to Michael Reininger, president of All Aboard Florida, will take "the gray out of travel".
Brightline will whisk passengers from Miami to Orlando in about 3 hours, the developer says
"The project provided us with a wonderful and rare opportunity to combine deep ethnographic research with our extensive hospitality experience to re-envision train travel," said the architect David Rockwell on 9 November.
"We believe that our holistic and collaborative approach will result in an entirely new travel experience that is welcoming, comfortable, fun, and seamless from departure to arrival.
All Aboard Florida hopes more than just bright colours will lure Floridans and visitors off the roads, however. It says the journey from terminus to terminus will be faster than driving, comparable to total-journey flying, and will let passengers relax with roomy seating and free Wi-Fi.
Construction has begun on stations in Miami, Fort Lauderdale and West Palm Beach, while the Orlando station will be located in OIA's new South Intermodal Center.
The stations have been designed by designed by Skidmore, Owings and Merrill (SOM) in association with Zyscovich Architects.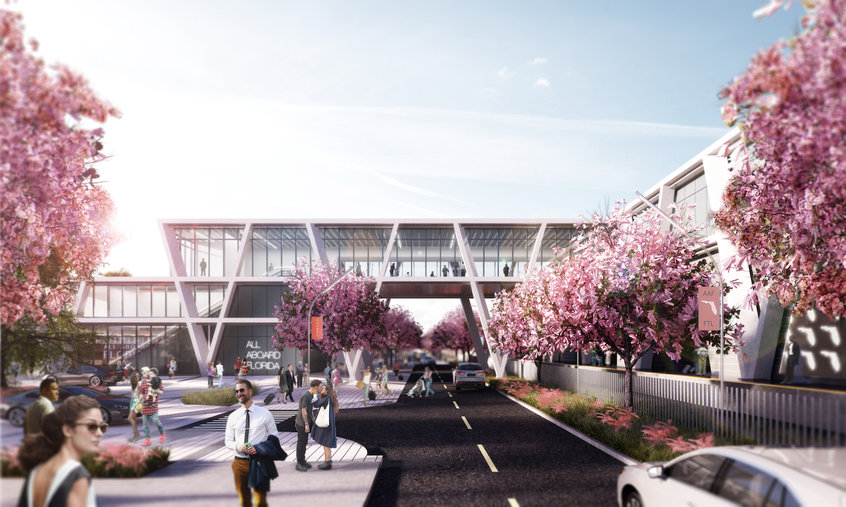 Artist's impression of SOM-designed Fort Lauderdale Brightline station (SOM)
In announcing its design for Fort Lauderdale station last year, SOM called Brightline a "transformational infrastructure project" that would eliminate 3 million car trips.
The Brightline stations themselves will create "dynamic new mobility-centric urban centers" in the cities featuring residences, offices and hospitality venues, said All Aboard Florida.
The developer is a unit of Florida East Coast Industries, one of state's oldest commercial real estate, transportation and infrastructure companies.
The Brightline trains themselves are being built in California by Siemens.
Top image: Brightline's colourful trains are being built in California by Siemens (Gobrightline.com)