Education City Stadium, the 40,000-capacity venue nicknamed the Diamond in the Desert, has been completed in good time for Qatar's 2022 World Cup Finals.
Located in Education City, a 12km development in Al Rayyan, in the centre of the country, the stadium is the third to be finished, following the Khalifa Stadium in May 2017, and the Al Janoub Stadium in June 2019.
The modular upper tier, which contains half of Education City Stadium's seats, will be donated to developing countries after the World Cup is over.
The stadium's facade forms a diamond lattice that appears to change colour as the sun moves across the sky and sunlight strikes it from different angles. Another feature is a possible five-star Global Sustainability Assessment rating – helped by the use of recycled materials for 29% of the structure.
Hassan Al Thawadi, the Supreme Committee for Delivery & Legacy's secretary general, said: "Launching the stadium now – while the world is overcoming the coronavirus pandemic – shows everyone that there is light at the end of the tunnel and brighter days ahead.
"We are proud to pay tribute to the frontline workers who remain at the forefront in the battle against Covid-19 and look forward to bringing the world together – at this stadium and others – using the unifying power of football in 2022."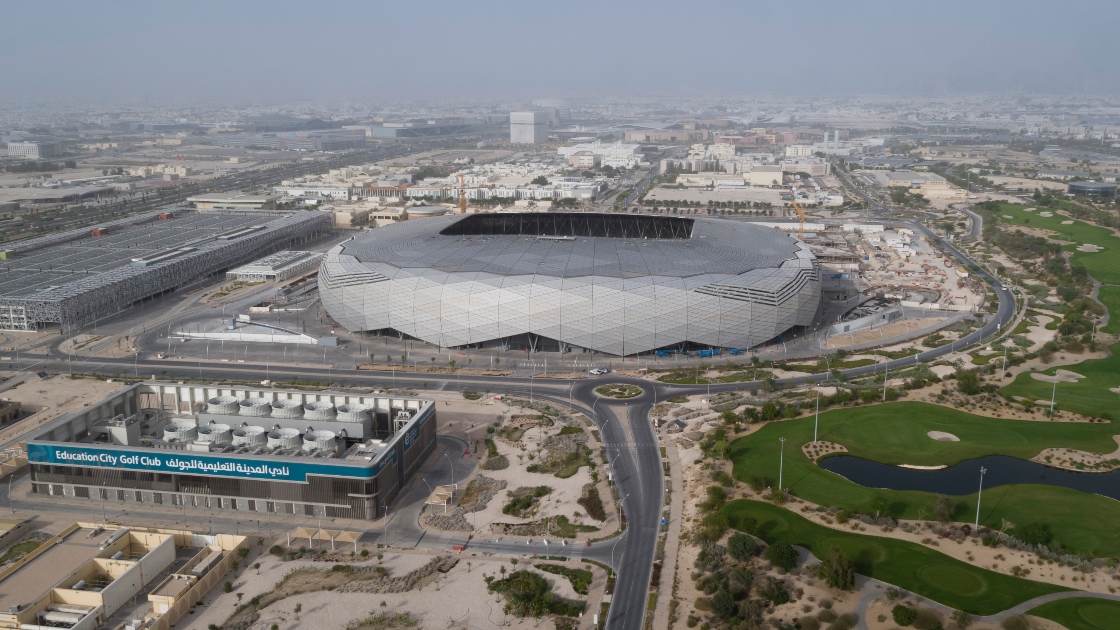 The Al Rayyan Stadium and Al Bayt Stadium are both due to be completed by the end of 2020.
Qatar had originally planned to build 12 stadiums for the World Cup but the number has since been cut to eight. It plans up to install 16 floating hotels to accommodate football fans during the tournament.
Images courtesy of Qatar2022.com