11 June 2013
A high-speed railway linking Laos' border with Thailand to Vietnam will be launched once Malaysian company Giant Consolidated completes a feasibility study of the project, according to a report.
The company won the contract last November to construct and operate the 220km railway from Savannakhet, in southwest Laos, to Lao Bao in Vietnam.
Construction is expected to take four years.
A Lao government official told Radio Free Asia that the project will be financed by a $5bn loan from a New Zealand lender called "Rich Banco Berhad", although this entity has no website and no such financial institution is listed in New Zealand.
Although no start date has been set, an official who spoke to the radio station said Giant was in "regular discussions" with the Lao Ministry of Public Works and Transportation in Vientiane.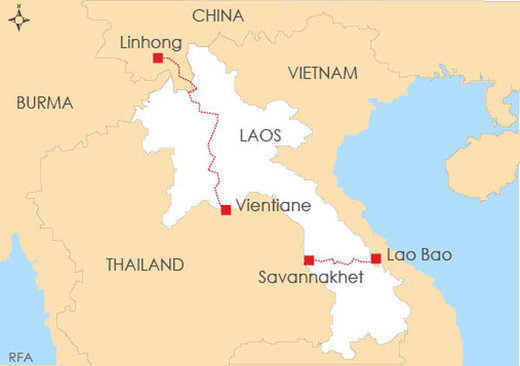 Laos hopes the new rail link connecting Thailand to Vietnam will aid development. (Credit: RFA)
However, there are doubts about progress as authorities are still waiting for Giant to submit an environmental impact assessment.
Laos hopes the rail link will lower the cost of exports and raise socioeconomic development although, according to the Asian Development Bank, the build could plunge the country into debt.
One Chinese construction company has already pulled out of a joint partnership with Laos over lack of confidence in the project's profitability.
The country is also in negotiations to borrow $7.2bn from China for a 420km rail link to southwest China.
Source: Radio Free Asia