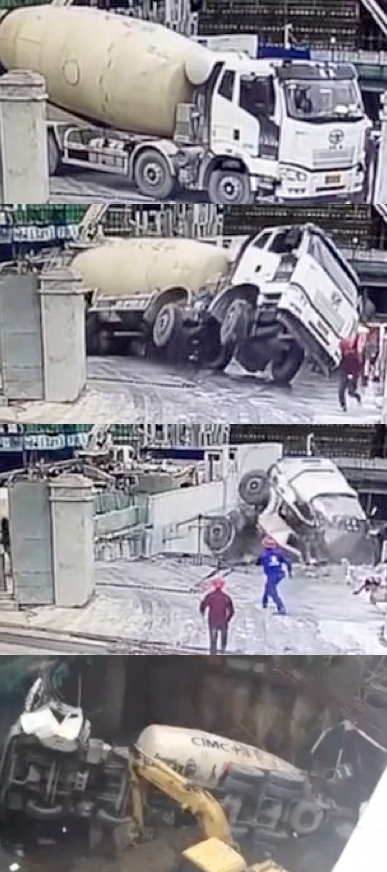 Cement truck montage (Screen shots from Weibo video)
A driver is lucky to be alive after his mixer truck, overloaded with 80 tonnes of wet concrete, suddenly toppled and fell into a 7-metre-deep hole on a construction site in China.
The terrifying moment was caught on closed-circuit television, footage of which shows the driver opening his door as the truck starts listing, possibly in a bid to leap to safety.
But with his door opening in the direction of the fall, he stays in the cab as the heavy vehicle falls on its side, slides into the hole, then flips on end and crashes onto the floor of the foundation pit.
Before the instant of terror, footage shows the driver making several attempts to reverse into position close alongside the pit.
Then suddenly the ground appears to give way on the pit's rim, causing the truck to tip and slide toward the edge.
Happening in less than four seconds, the driver had little time to react.
The construction company in charge of the site blamed the inappropriate actions of the driver and the overloading of the truck, according to a Chinese news outlet quoted by UK newspaper The Daily Mail.
Luckily, the driver survived and was treated only for a broken leg.
The accident happened on 20 November in the southeastern city of Foshan, Guangdong province.
The collapsed section of the road on the site was repaired by 24 November, said reports.
Video footage can be seen here.
Top image: CCTV footage captured the terrifying moment (Screen shots from Weibo video)