Sheikh Mohammed bin Rashid Al Maktoum, Dubai's ruler and prime minister, has unveiled plans for a $500m "Museum of the Future," elements of which will be constructed using a 3D printer.
The museum will contain a permanent gallery for global innovations, and laboratories focusing on education, energy, health, smart cities and transport (pictured). 
The exterior of the oval structure will contains poems written by Al Maktoum himself and will be one of the elements that are printed.
The museum will be located in the Emirates Towers area of Dubai, close to the Emirates Office Tower and Jumeirah Emirates Towers Hotel, the 23rd and 47th tallest building in the world. 
It has been designed by Shaun Killa, of Killa Partnership, who recently left the role of design director at Atkins Dubai.
Killa said: "The solid element of the building symbolises what we know today and also represent what we know to be the future; the void represents what we don't know. So we constantly are looking towards the future and discovering new possibilities."Â 
The museum's motto, "See the future, create the future", aims to inspire innovation in the emirate.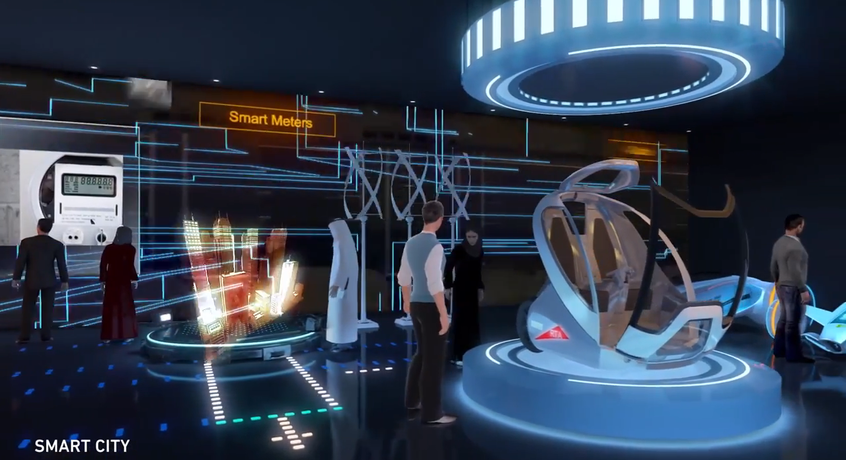 Al Maktoum said: "The future belongs to those who can imagine it, design it, and execute it. Here in the UAE we think differently. Whereas others try to predict the future, we create it."Â 
It is due to be completed in 2017 and will be managed through a foundation chaired by Dubai's Crown Prince, Sheikh Hamdan.
Watch a video simulating a walk through the museum here 
All photos via Youtube