Dutch landscape architect West 8 has created "The Hills," a range of artificial hills offering views of the Statue of Liberty and the Manhattan skyline from a once abandoned island.
The project is the second part of West 8's development on Governors Island, with part one focusing on a park and public space, which opened to the public in May 2014.
The client is The Trust for Governors Island.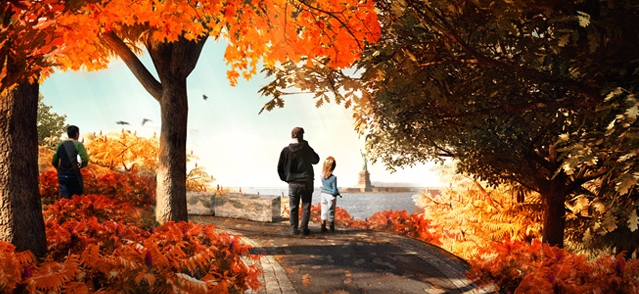 West 8 say the project is akin to being "immersed in a green oasis" and draws from the manmade topography in Central Park, paying homage to "the lush, hilly landscapes of pre-colonial Manhattan."
To plan for the continuing long-term increase in sea levels, and for the more frequent and violent storms that that are expected to accompany climate change along the Eastern seaboard, West 8 has lifted the majority of the island out of the flood zone.
The four hills are made of recycled construction and fill materials and rise 9m to 21m above sea level.
The hills are:
Grassy Hill, which will provide a 9.1-m-high gentle slope overlooking the island's new and historic landscapes and the Manhattan skyline
Slide Hill is 11.5m high, and will host 4 slides for children and families nestled among shady trees
Discovery Hill is 13.7m high and will have art installations along its pathways
Outlook Hill is 21.3m tall and aims to offer "breathtaking" views of the Statue of Liberty, New York Harbor and the city's five boroughs.
The project won a design competition in 2006 and will be open to the public later this month.
Images via West 8