A team at The Maritime Research Institute Netherlands (Marin) has tested a concept for a floating island made from interlinking triangles.
The project consists of 87 tiles that are flexibly connected to one another to form an island. Marin said it could be used for multiple purposes, such as:
Developing, generating, storing and maintaining sustainable energy, such as offshore wind, tidal energy, wave energy and floating solar panels
Loading and transshipping cargo in coastal areas where there is little infrastructure
Cultivating food, such as seaweed and fish
Building houses and recreation close to the water
Olaf Waals, project manager and the concept developer, said: "As sea levels rise, raising dikes and reclaiming land are perhaps no longer an effective solution. An innovative alternative that fits with the Dutch maritime tradition is floating ports and cities."
Marin says this project and others like it "are part of the Blue Future in which the seas and oceans, 70% of the Earth's surface area, are used sustainably".
The six-by-eight metre model consists of 87 triangles made from polystyrene and wood; so far, it has been tested in a tank that simulates the effect of waves, wind and storms.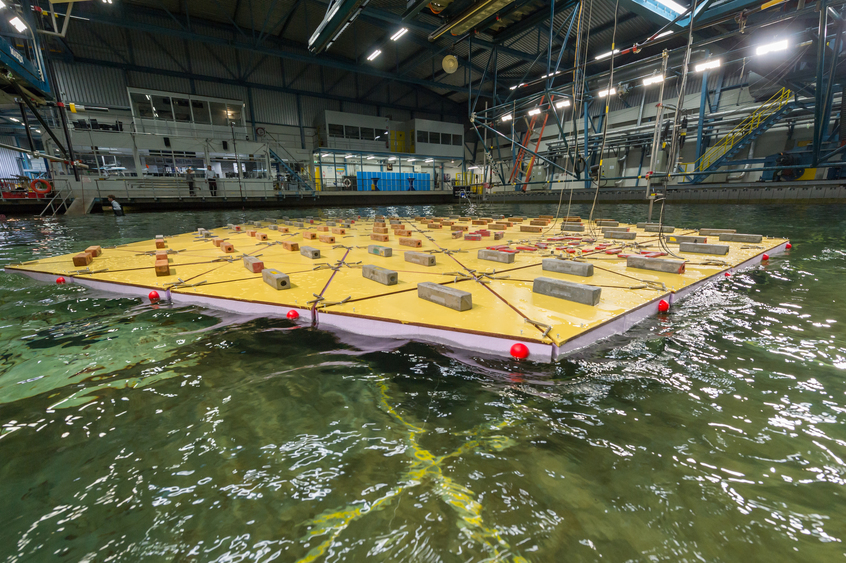 Bas Buchner, the director of Marin, said discussions were under way with Dutch municipality Haarlemmermeer and Lelystad airport for developing the project.
The next set of technical challenges the Marin team faces includes working out how islands will be able to withstand winds and currents, how they can best be interconnected and anchored, and the effect of wave motion on those living on it.
Waals said that "technically it could be feasible in 10 to 20 years from today".
Other floating projects that have cropped up recently include a floating parliament for the UK, the worlds longest floating rail bridge for Seattle, the first floating houses in Dubai and the world's largest rotating solar plant.
Images courtesy of The Maritime Research Institute Netherlands