A team of researchers at the Eindhoven University of Technology has created colourful solar panels that double as traffic barriers at the side of highways.
A year-long test of the panels is taking place on the A2 motorway, near the city of 's-Hertogenbosch in the south of the Netherlands.
The red, yellow and translucent "luminescent solar concentrators" (LSCs) receive sunlight and guide it to the side of the panels, where it is focused on traditional solar cells.
Each of the two noise barriers used in the practical test is 5m wide and 4.5m high; as well as the LSCs they contain semi-transparent panels holding classical solar cells, for comparison purposes.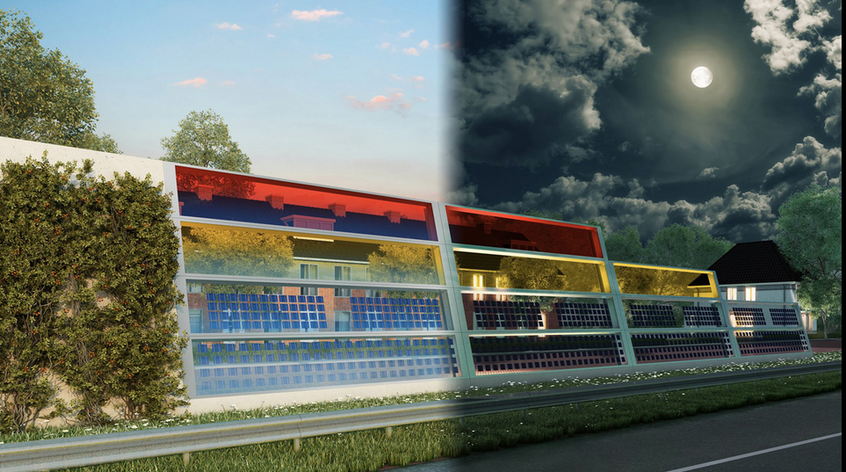 A kilometre of energy-generating noise barriers can produce enough electricity to supply 50 households with power.
Michael Debije, the professor who is leading the research, said: "Thanks to their many colours the LSC are visually very attractive, which makes them ideal for use in many different situations in the built environment.
"Further benefits are that they are low cost, they can be produced in any desired colour, they are robust, and the LSCs will work when the sky is cloudy. That means the idea offers tremendous potential."
Stijn Verkuilen is a project leader at Heijmans, a construction services provider that is collaborating on the research. He said: "Our practical test is a simple sum, through which we're investigating the ways solar cell technology can be integrated in a robust and visually attractive way."
As well as Heijmans and the Eindhoven University of Technology, the project is being supported by Van Campen Industries, SEAC, Airbus Defence & Space Netherlands and the Energy Research Centre of the Netherlands.
The test is due to finish in June next year. During that time vandal-resistance and maintenance requirements will be tested.