The president is gambling on massive investment in construction to generate growth, but experts doubt whether it will be enough to stem a steady rise in political violence.
A groundbreaking three-day conference on the future of the Egyptian economy closed in the resort of Sharm El Sheikh earlier this month with a rousing speech by President Abdel Fattah al-Sisi calling for massive investment, both public and private.
The emphasis is on developing large investments and large projects and I think they're not paying enough attention to the basic issues of the poor– Mohamed El Dahshan, an economist and critic of the regime
"Egypt needs no less than $200bn to $300bn to have real hope for the 90 million Egyptians to really live, really work, and really be happy," he said. "We are behind, and those who are late must run."
The event had been planned as a meeting for foreign friends who wanted to donate cash but, when businesses from outside and inside the country asked to attend, it became something else. Prime Minister Ibrahim Mahlab described it as "the starting point for a new vision for Egypt's economy", and a "gateway" for local and foreign investors.
One person who was there, economist and critic of the regime Mohamed El Dahshan, told GCR that he was "pleasantly surprised". 
"There were many high-level private executives who were interacting with members of the Egyptian government in a very free and open manner and there was direct access to ministers, which is unheard of in Egypt," he said, adding that it was the work of a government keen to appear "very much in charge, past political disputes and focusing on the economy".
Unveiled was an ambitious, four-year development plan that included everything from skilling up tourism workers and incubating the food processing industry to big-ticket infrastructure schemes in power and transportation. 
Unusually for Egypt, the private sector will be wooed. Public-private partnership schemes (PPPs) worth $3.7bn will be tendered in the next two years for projects including ports, desalination plants, stadia and transport projects.
But El Dahshan and other experts told us that the vision, stirring though it may be, is a gamble by a government and its regional backers who hope that a combination of economic growth and harsher security laws will soothe Egypt's simmering discontent and worsening political violence. 
Gulf money
The Gulf monarchies used the conference to promise massive support, to the tune of $12.5bn. Saudi Arabia, the UAE and Kuwait each pledged $4bn and Oman chipped in $500,000.
This came on top of lavish gifts following the military coup that ousted Mohamed Morsi in July 2013, including $6bn in free oil. That money allowed Egypt to stave off a foreign exchange crisis after reserves dwindled from $20bn to less than $1bn in the years following the Arab Spring in 2011. Political unrest hit tourism particularly hard: in 2013 this crucial sector brought in just $1.9bn, compared with $5.6bn the year before. 
The Gulf money is intended to kickstart the economy: in its four-year plan, unveiled at the conference, the government set a target to boost GDP growth from an expected 3.8% in the 2014-15 financial year to 6% in 2018-19.
Schemes were announced and re-announced. The most astounding was an $80bn new capital city outside Cairo. This development, trailed some weeks ago, may eventually accommodate 7 million people and create 1.5 million jobs.
"We are behind, and those who are late must run," said President Abdel Fattah al-Sisi (source: Egypt the Future)
As well as providing a new home to the Egyptian government, it would contain a park twice the size of New York's Central Park, an amusement park four times the size of Disneyland and a business district that bears more than a passing resemblance to Dubai – not so surprising given that the project is led by Muhammad al-Abbar, the developer responsible for Dubai's Burj Khalifa, the tallest building in the world. 
Power politics
"New Cairo" will be a bridge eastward to another series of megaprojects wrapped up in the Suez Canal Area Development Project, which includes a new city to be called Ismallyah, an industrial zone complete with massive refineries, a high-tech manufacturing valley, seven tunnels between Sinai and Ismaïlia and Port Said, and, as the finishing touch, a new canal parallel to the existing one.
Alongside these immense undertakings is a programme to boost power generation, frequent outages being the bane of Egyptian life. In his closing speech Sisi spent some 20 minutes discussing the power station deals that he had personally re-negotiated with GE and Siemens. The government plans to expand installed capacity by 16GWh by 2017 and by 26GWh by 2022. 
A number of new smaller schemes, like a $450m extension to Sharm el Sheikh airport, joined those announced some time ago, such as the eye-watering plan to build a million affordable homes -  a plan that appears to have stalled due to financing. 
The army economy
In the run-up to the conference, the government also unveiled several measures calculated to appeal to investors, including cutting the rate at which income is taxed and new mechanisms to resolve commercial disputes.
Investors thinking of signing up will have to take into account some unusual factors, however, including the fact that many projects are carried out by the Egyptian army, either directly or through subcontracts to third parties. 
The economic weight of the army in the Egyptian economy is usually put at between 30% and 40%, but it is difficult to be sure because it does not publish accounts or pay taxes. As El Dahshan points out, the army also acquires its contracts without bidding for them, including the Suez Canal development zone. 
Rising violence
Beyond that, there are doubts over whether the buoyant mood effectively stoked at Sharm el Sheikh can change Egypt's current realities, which include double-digit unemployment (approximately 12%) and growing violence.
Washington-based NGO the Tahrir Institute for Middle East Policy recorded 109 terrorist attacks in Egypt last month, 49 of which took the form of improvised explosive devices. It's the highest monthly tally in at least 10 years.
Another trend is an increase in attacks on economic targets, with 30 recorded against banks, restaurants, and telecoms, electricity and transport infrastructure. 
The government blames Islamists for the violence. Its fear of the Muslim Brotherhood, whose leader Mohamed Morsi won free elections in 2012, is demonstrated by a spate of death sentences handed down to the movement's supporters – 188 last year and 14 more this month. In February President Sisi ratified a bill expanding the definition of terrorism and granting state institutions more power in taking immediate measures to address it. 
No accord
John Mbaku, senior fellow at the Brookings Institution, told GCR that going for economic growth without a political settlement of the forces unleashed by the Arab Spring was unlikely to succeed.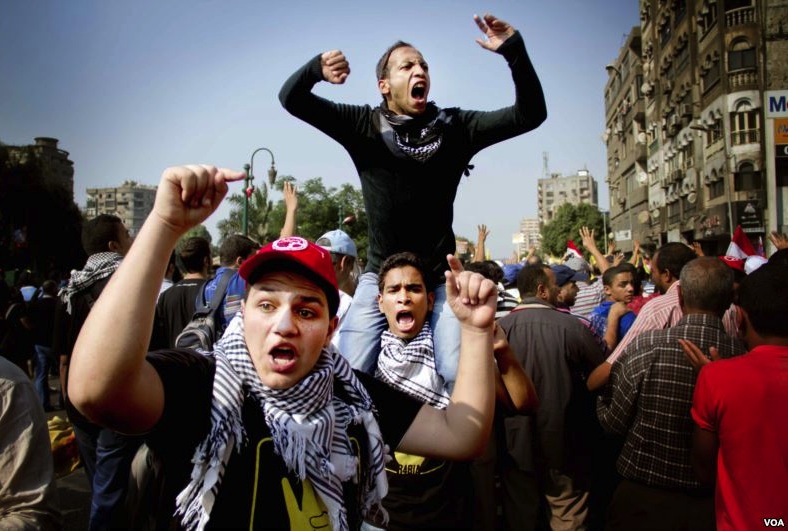 Protesters against the military coup in July 2013. Last week an Egyptian court sentenced 14 more members of the Muslim Brotherhood to death (H Elrasam/VOA/Wikimedia Commons)
"The Arab Spring wasn't followed through to its conclusion, which was to bring all the stakeholders together and discuss how the Egyptian state could develop institutions that would allow all groups in the country to live together peacefully," he said.
"The government has to be careful because it is going in a direction in which the Muslim Brotherhood may become more relevant than it is, because they have been in power for quite a while and they have not been able to bring about the peace that they claimed they would, and it is difficult to promote any kind of economic policy in the midst of violence."
He added that a failure to reach a political accord could conceivably bring Egyptian Islamists into alignment with the hyper-aggressive ideology of the Islamic State, as may already be happening in the Sinai and Libya. 
Blinded
El Dahshan said that Egypt and its backers in the Gulf were "blinded by their ability to decimate" the Muslim Brotherhood. 
"It's positive news that the country is getting more money in investment and aid, but with the political violence issue, they're just trying to squash it with physical violence and restrictive legislation. 
"The people who strongly dislike the current regime might be 20%, 30% or 50% of the people, but in any case it's not a tiny minority. There's some bravado saying that you can power through without a settlement, but it has repeatedly been proved to be short of the mark."
He added that the planned schemes were unlikely to challenge groups such as the Muslim Brotherhood in their appeal to Egypt's poor and disaffected. 
"At the conference I was listening to the various talks and trying to see what is being done in terms of social justice and reducing inequalities, and as it stands they're not doing much of that," he said. "The emphasis is on developing large investments and large projects and I think they're not paying enough attention to the basic issues of the poor."