31 May 2013
In 2009, El Salvador's public works ministry had 80% of its contracts paralysed by legal wrangles. Now it has set public procurement on a transparent and ethical course. Michele Bacchus reports
El Salvador is the latest country to join the Construction Sector Transparency Initiative (CoST) as part of its efforts to increase accountability and reduce corruption.
Funded by the World Bank, CoST teams up with other global initiatives, such as the Open Government Partnership, and urges the construction industry and civil society organisations to create a more transparent public construction sector.
It works with government agencies to gather, verify and disclose project information to the public. The CoST system reports against 31 indicators that track all stages of a government project cycle.
Public procurement in El Salvador badly needed improving. In 2009, its Ministry of Public Works had debts of $43m with 80% of its contracts paralysed by legal problems, according to CoST.
However, since adopting a reform programme based on transparency and ethical behaviour, there are no more law suits against the Ministry.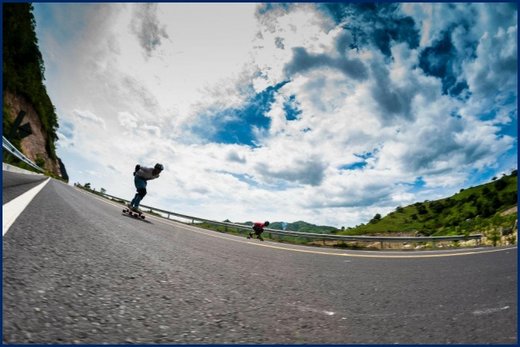 Infrastructure projects roll along much better in El Salvador these days. Here, a skateboard competition celebrates the new Northern Transnational Highway, funded by US aid body, the Millennium Challenge Corporation (MCC). (Credit: MCC)
Gerson Martinez, minister of public works, said: "Our commitment to CoST is an important next step in getting better outcomes from our investment in public infrastructure."
Joining CoST officially on 24 May this year was the culmination in El Salvador of a concerted effort to get its procurement house in order.
In 2009 it established "The Citizen's Observatory of Public Works" with the participation of the Salvadoran Chamber of Construction (CASALCO) and civil society group National Foundation for Development (FUNDE).
So-called "Integrity Pacts" have also been in operation from 2011, including for the construction of Boulevard Monsignor Romero and for the Integrated Transportation System Terminal for the Metropolitan area of San Salvador, two of the largest projects in the city.
A Transparency and Access to Information Policy for the Ministry of Public Works was established by ministerial decree in May of 2011, guaranteeing citizens access to public information in the ministry's domain, and access to justice through public hearings. 
In response to the Access to Public Information Law, which came into force on 8 May 2012, the Ministry created two 'Transparency Houses', which are offices where any interested party can request official information on the ministry.
Need for transparency highlighted
The director of CoST's international secretariat, Petter Matthews, said the need for transparency has been highlighted by April's collapse in Dhaka, Bangladesh of an eight-storey factory building that left more than a thousand people dead.
El Salvador's minister of public works, Gerson Martinez (seated, middle) officially signing up to the Construction Sector Transparency Initiative (CoST) on 24 May 2013. (Credit: CoST)
The owners had violated construction codes and, according to The Times of India, a committee appointed by the Bangladeshi government concluded the building had been built with "extremely poor quality" construction materials.
CoST has called for a full independent inquiry in Bangladesh.
Only a few weeks before Dhaka, a similar incident occurred in Dar Es Salaam, Tanzania, where dozens died after a 16-storey building collapsed.
It is claimed that planning permission for a 10 storey building was ignored by the client and the contractor.
CoST believes greater transparency in the construction sector could lead to reduced threats to public safety and a positive impact on development by ensuring higher quality construction and improved value for public money.
Formally launched last October, CoST began as a three-year pilot in 2008 with eight countries including the UK, Ethiopia and Vietnam.
The pilot was funded by the UK's Department for International Development. Guatemala, El Salvador's neighbour which has also been involved in CoST since 2008, has seen its own construction sector shaped for the better; a recent CoST disclosure report resulted in a recommendation for several contracts to be cancelled and retendered in the public interest.
Mexico hopes to join the initiative later this year.
Source: CoST