The diplomatic and economic blockade of Qatar is likely to be the new reality in Gulf affairs following the emirate's rejection today of its neighbours' demands that it make fundamental changes to its domestic and foreign policy.
The stand-off causes problems for international construction companies operating in the Gulf, partly as a result of disruption to their supply chains brought by the physical blockade and partly owing to the difficulty of maintaining commercial relations with both sides.
But it may also bring unexpected benefits to the Qatari construction industry, which has something like $200bn worth of infrastructure under way or planned between now and the 2022 World Cup. It is showing signs of becoming leaner and more efficient in the face of restricted supplies.
Other winners may be third-party countries like Turkey and Oman, which are already seeing a rise in business with their beleaguered friend.
Saudi Arabia, the UAE, Egypt and Bahrain, the four countries making the demands, issued a 13-point ultimatum on 22 June, along with a 10-day deadline for Qatar's response. This was followed by a 48-hour extension on Monday. After the expiration of the deadline, Qatar's rejection of the ultimatum was delivered to the four countries by Kuwait, which has been acting as a mediator in the dispute.
The four will today convene in Cairo to discuss their next move. Â 
Stuff to build with
The GCC has finished for us– Abdelaziz bin Ahmed al-Thani, member of the Qatari ruling dynasty
The consequences of the crisis are likely to be longer lasting than the diplomatic spat in March 2014, which was caused by Qatar's support of the Muslim Brotherhood movement in Egypt at a time when Saudi Arabia and the UAE were investing heavily in the new regime of Abdel Fattah el-Sisi.
Michael Stephens, the Royal United Service Institute (RUSI) fellow for the Middle East, told GCR that the only thing that the two sides were likely to agree on was Qatar's withdrawal from the Gulf Cooperation Council (GCC), which would likely be followed by Oman's exit, he said.
For the construction industry in Qatar, obtaining materials would be a big problem.
"You've got the big guys like CH2M Hill and Bechtel occupying 10 floors of Doha tower blocks, but you've still got to have the stuff to build with," he said. "They can fly things in in the short term, but they will depend on the Iranians and the Turks ramping up production. It strikes me that Iran would benefit more than Turkey here."
Commercial relations with Oman also appear likely to improve. Oman, long a semi-detached member of the GCC, has already become a key transshipment point for materials bound for Qatar.
The painful dilemma
Apart from logistical difficulties, many multinationals are now facing a choice of which side in the dispute they want to do business with in the future.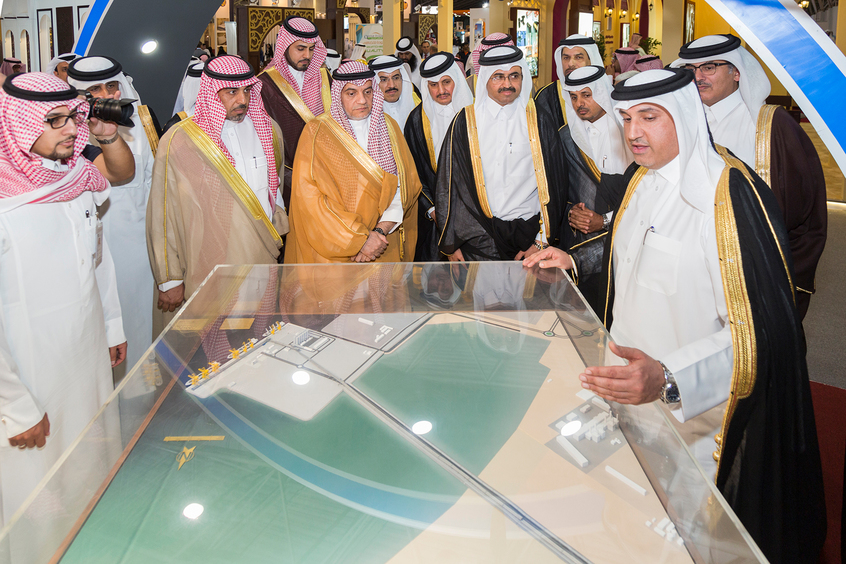 Calm before the storm: QPMC presents its plans in the 2016 "Made in Qatar" exhibition in Riyadh
As GCR reported last week, companies are already feeling the pain, but are expressing concerns anonymously.
"Qatar is a valuable market for us and we want to continue there but it has become difficult, and if there's no improvement we will have to review our strategy," said one commercial manager at a European construction services company with a regional head office in the UAE. He added that the company may be forced to stop bidding for contracts in Qatar or wind down its operations there altogether if sanctions intensified.
A Doha-based executive at an international engineering firm said the situation had already forced his company to delay some projects. "As a satellite office in Qatar we rely on being able to bring staff across from UAE regularly," the executive said. "Several jobs have had to be postponed due to building materials being held up in Jebel Ali port in the UAE."
"Where necessary, employees have had to travel for seven hours via Oman to get to Qatar."
Blessing in disguise?
An unexpected effect of the blockade may be to force Qatar's immense construction effort to become leaner, particularly when it comes to the sourcing of supplies and inventory control.
UAE and Saudi suppliers are now in "dire straits" following the sudden loss of their market, reports Gulf Times.
But sources also told the Gulf Times that despite a fear of shortages, Qatar had "brilliantly executed its alternative plans that never allowed room for panic". This plan has been made possible by the emirate's huge cash reserves.
According to the paper, Qatari companies used to source materials from the UAE and Saudi Arabia on a credit basis and typically maintained large inventories. The emirate now pays as soon as it orders, which has enabled it quickly to form new commercial relationships with Omani and Indian firms. At the same time deliveries are made more quickly, which has allowed a certain amount of de-stocking.
I'm still of the opinion that it's more likely to escalate than de-escalate– Michael Stephens, Royal United Service Institute
Since the crisis began, the Qatar Ports Management Company has announced the beginning of direct services to Oman. The Omani Indian Ocean port of Salalah has emerged as the main hub for Qatar, with shippers such as the Maersk Line beginning a feeder service from there to Qatar's Port Hamad. Other lines have been opened to Mumbai.
One materials company told Gulf Times that the blockade was "a blessing in disguise". He added cargoes were delivered in less than nine days compared 21 under the previous system, and that the money saved in lower transport costs and less stockpiling has actually improved construction firms' profit margins.
The new commercial relationships are exemplified by the Qatar Primary Materials Company (QPMC), which, as the name implies, is the primary supplier of raw materials to Qatar.
Essa al Hammadi, its chief executive, told the Peninsula newspaper that bulky materials such as limestone and gabbro (an igneous rock used for kitchen work surfaces and cladding) were now increasingly sourced from Oman. Previously, all of this material came from the UAE's eastern emirate of Fujairah.
Al Hammadi added more meetings would be held with Omani suppliers over the coming days.
Although the other parts of the industry may be tightening their inventory control, QPMC has followed the opposite course by building up vast strategic stockpiles. Al Hammadi said there it had an "abundance" of washed sand, as well as 11 million tonnes are gabbro and 3 million tonnes of limestone.
He said this stock would cover demand for cement for more than a year.
Turkey in a corner
The diplomatic assault on Qatar now seems likely to achieve the opposite of what was intended. Rather than bringing the emirate's foreign policy into line with that of Saudi Arabia and the UAE, it has strengthened its bonds with Turkey, pushed it closer to Iran and created new economic links with Oman.
In April, Turkish contractor Tekfen agreed a deal with QPMC to supply materials for the 10-lane Al-Khoor Highway
After the announcement of the blockade, Turkish President Recep Erdogan announced an airlift of Turkish troops to Qatar, accompanied by expressions of unqualified support. At the same time Iran began a "Berlin airlift" of fruit and vegetables to Doha.
RUSI's Stephens said: "The moment that the 13 points came out it was clear that there was only going to be one response from the Turks, which was to double-down on their Qatar involvement. It probably wasn't a smart move from the Saudis because it backed Mr Erdogan into a corner and forced him to go with the country he see as Turkey's foremost ally in the region."
One immediate effect of this move is that Turkish companies are likely to find themselves the first choice for future construction contracts.
Testifying to this is Abdelaziz bin Ahmed al-Thani, a member of the Qatari ruling dynasty and the owner of Sharaka Holdings, one of the largest property developers in the Emirate. He has announced that he will favour Turkish contractors in all future projects.
"The GCC has finished for us," he told Turkey's Daily Sabah. "Can a man behave to his brother like this? From now on, Turkey and Turkish companies will be the number one destination for all of our projects."
He added that Qatar now planned to build a free economic zone for Turkish companies alone, on the understanding that Turkey would do the same for Qatari companies.
Stephens commented: "There are blowbacks and benefits for Turkey. They were also looking for markets in Yemen and Saudi Arabia."
The chances of a resolution
Stephens said the key to de-escalation would be the degree of pressure from the US.
"Rex Tillerson [the US secretary of state] has been given carte blanche to try to sort it out and US policy is becoming quite coercive," he said. "It's unreasonable to make predictions while we're still in the throes of chaos diplomacy, but my view is that if it had not been for the 48-hour extension it would have been likely to escalate fast. After the extension I'm still of the opinion that it's more likely to escalate than de-escalate."
Top image: Qatar has no shortage of sand. All photos courtesy of QPMC.
Further Reading: