A coalition of American and British engineers and designers, including Arup and Buro Happold, have teamed up to create a suite of standardised, mass-timber and steel structural elements for high-density urban housing.
Called the "Tallhouse", the catalogue of manufacturable systems is for buildings between eight and 18 storeys, in anticipation of the upcoming 2021 US Tallwood Codes, which will allow timber construction to that height.
The concept was developed for cities like Boston, Massachusetts, which faces the twin pressures of an extreme housing shortage and tough emissions targets.
The systems are designed as replicable kits of parts that accommodates most US, Canadian and European manufacturers' products and transportation logistics.
Despite the standardised elements, the external bays of the Tallhouse are adaptable to allow for customised architectural designs.
Floor systems use 5-ply cross-laminated timber (CLT) and the Tallhouse has a prefabricated, panelised exterior wall system, modular bathrooms and kitchens, and prefabricated mechanical, electrical and plumbing assemblies.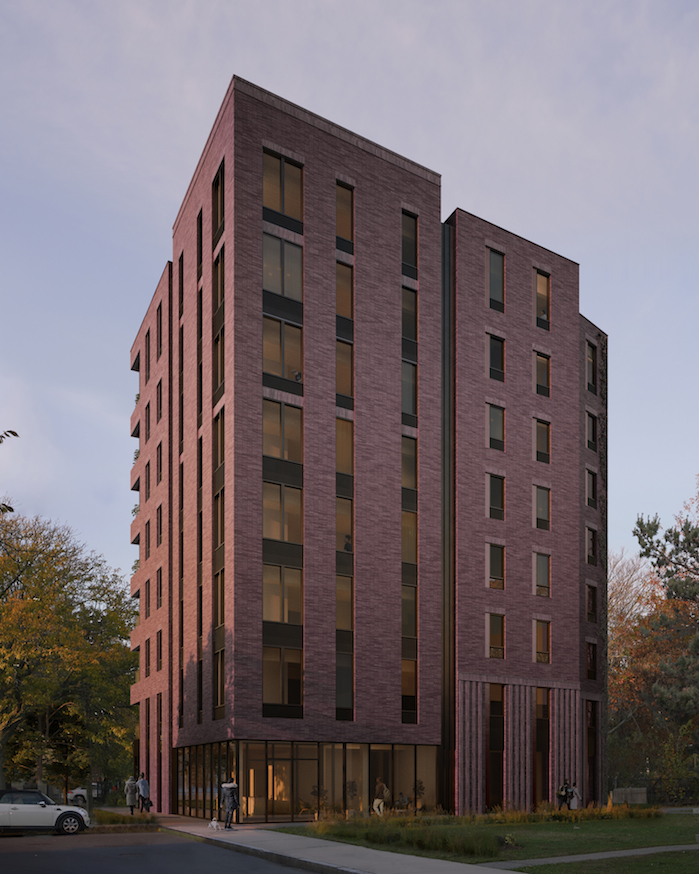 The external bays of the Tallhouse are adaptable to allow for customised architectural designs (Generate)
The aim is to speed up and digitalise construction, while reducing buildings' embedded and operational greenhouse gas emissions.
The initiative is led by Generate, a new architectural technology company in Boston founded by architect and MIT researcher John Klein.
"Already, we are designing individual mass timber projects relying on these digital systems, which are now starting to go up in Boston," Klein said in a statement to GCR.
"But the Tallhouse catalog was developed with the specific intent of at once enabling our cities to achieve their ambitious CO2 footprint reduction goals, and to meet growing demand for affordable, biophilic housing. We trust these systems will be widely accessible to architectural communities globally, and serve as a vehicle to deploy sustainable materials at scale."
Also participating in the scheme are Niles Bolton Associates, Consigli Construction, Code Red Consultants, Urbanica Development and Olifant, a sustainable market development firm.
The Tallhouse catalogue offers four structural options: a hybrid steel-CLT structure;Â  a mass timber post, beam and plate structure; a hybrid light-gauge metal-CLT structure; and a full CLT plate honeycomb structure.

Cross section showing a Tallhouse elevation (Supplied by Generate)
Using a carbon data analysis tool, the team calculated that savings in CO2 emissions associated with these options range from 14% to 52%.
Klein said: "Significantly, each system was carefully designed for manufacturing, relying on data from real products and materials. Generate is devoted to the digitalisation of the AEC industry, and has been working towards the development of a digital platform that will at once streamline the design, manufacturing and assembly of buildings, while increasing transparency on the different implications of building materials and systems."
Paul Richardson, principal at Buro Happold Engineering, said: "The use of mass timber in the Tallhouse research demonstrates an exciting opportunity for a flexible, low carbon structural system. Our integrated Structural and MEP engineering approach to this housing typology, produces a 'design for construction' which leverages the expertise of the construction supply chain and maximizes the opportunity for prefabrication."
"Mass timber is less carbon intensive, is renewable, and brings new value to the protection of our regional working forests," said Nicole St. Clair Knobloch, principal at Olifant. "This package represents the first time a carbon analysis has been done on real design solutions, costed for a specific metropolitan area – that's what will help it scale to be a low-carbon building solution."
Top image: Cross section showing elements of a Tallhouse apartment (Supplied by Generate)