A protocol of common intent to build an undersea tunnel between Finland and Estonia is due to be signed by the countries' governments on Monday.
The Estonian cabinet, meeting on Thursday, gave its consent to Taavi Aas, the minister of economic affairs, to sign the agreement. Its contents will not be made public until after the signing.
The deal is a step closer to work beginning on the world's longest undersea tunnel, estimated to cost around $20bn, although it does not commit either side to the project.
However, it does allow the project to gain the imprimatur of the EU's Trans-European Transport Network programme, making it eligible for EU funding.
As reported by Estonian news site ERR, Estonian prime minister Kaja Kallas said: "In the case of such a huge project, it is important that both countries express their will. I hope that the protocol will be signed and that we can move forward with preparations for the possible construction of the tunnel by the state."
After the signing, the Ministry of Economic Affairs will relaunch the Tallinn-Helsinki Tunnel Working Group, which will include representatives from both governments as well as the  Tallinn and Helsinki city governments.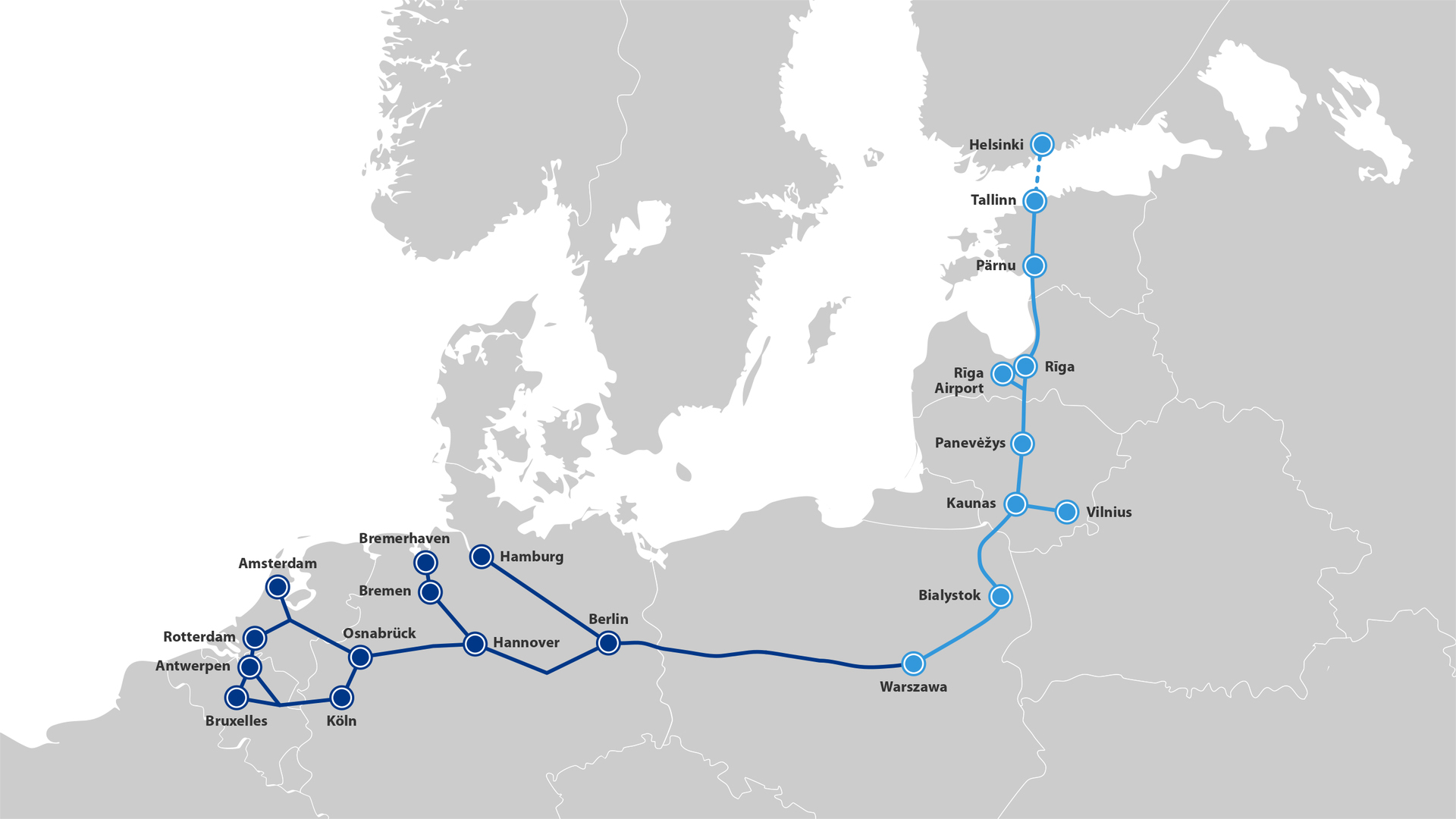 The tunnel would form the final link in the Rail Baltica route, intended to orientate Baltic states towards the EU (RB Rail AS/CC BY-SA 4.0)
The ministry must now submit an overview of the project development to the government in the third quarter.
Previously, Estonia had expressed scepticism about the idea (see further reading). In 2019, Aas commented: "We need a clear understanding of where the money is coming from and in what amount. Where are the guarantees that it will be completed? The developer hasn't been able to respond how it's estimated the volume of people that will be traveling through there."
The project was first suggested by Peter Vesterbacka, a developer of the Angry Birds app, as a twin-bore 103km-long tunnel that would form the final leg of the EU's Rail Baltica project.
A feasibility study was concluded in February 2018. It found that by 2050, demand would reach 12.5 million passengers and 4 million tonnes of freight a year. This gave a cost-benefit ratio of only 0.45, owing to the high capital cost, but the study recommended the scheme on the basis of its impact on regional development, which it estimated at between €4bn and €6.9bn a year.
Top image: The Estonian capital of Tallinn is expected to receive a development boost from the tunnel  (Maigi/CC BY-SA 3.0)
Further reading: