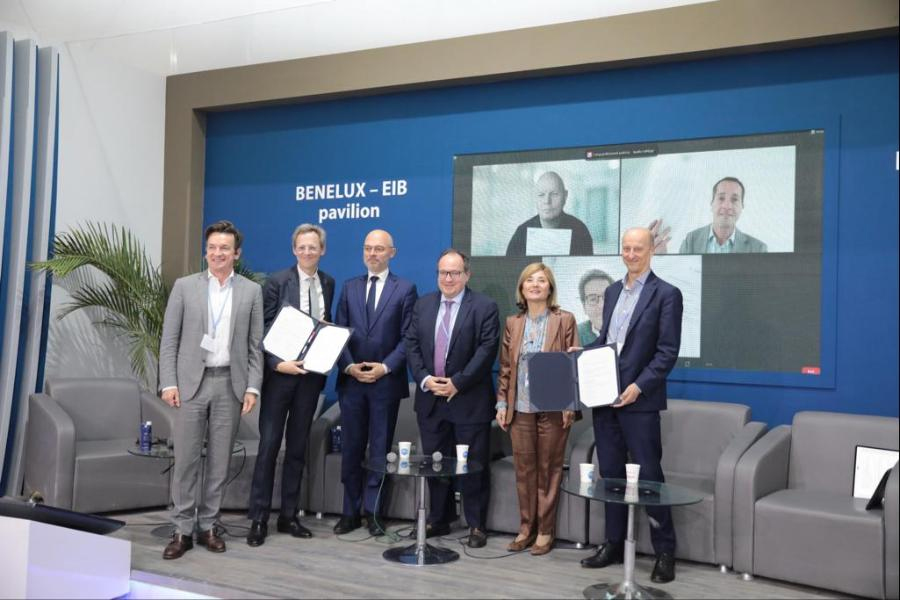 The European Investment Bank (EIB) is aiming to mobilise €2.5bn of investment in climate action projects in partnership with five private equity partners.
The money will be spent on meeting the EU's climate change targets, and will come from the European Investment Fund (EIF), which provides finance to small and medium-sized companies.
Speaking at the COP27 gathering in Sharm el Sheikh, the bank said it was committing €250m in seed capital in the areas of renewable energy, energy efficiency, the circular economy, and water management, as well as innovations in agriculture and aquaculture.
The money will be spent in the following areas:
€75m to the Eiffel Transition Infrastructure Fund, an innovative fund designed to provide equity bridge financing for renewable energy infrastructure assets in Europe.
€75m to the SUMA Capital Climate Impact Fund III, an infrastructure fund targeting greenfield energy transition and circular economy projects predominantly in Spain.
€30m to PureTerra Ventures, a water technology early growth fund, which invests in small and medium enterprises across the European Union scaling game-changing technologies to radically alter the usage, conservation and treatment of water.
€28m to the Growth Blue Fund I, a private equity fund focusing on the blue economy, sustainable economic activities relating to the oceans. It will mainly invest in Portuguese small and medium companies across all sectors.
€39m to the Zintinus Fund I, a venture capital fund focused on growth stage investments in sustainable food innovation across Europe, in particular alternative proteins, functional food, clean nutrition and food waste reduction.
According to the EIB, the financing will contribute to the European Green Deal, which aims to make Europe the first climate-neutral continent by 2050, as well as REPowerEU, the plan to reduce dependence on Russian fossil fuels by investing in clean energy.
Alessandro Tappi, chief investment officer for EIF, said: "Contributing to the EU's green transition is a top priority for the EIF and the EIB Group. This has become even more important and urgent given the current energy crisis.
"We are therefore very happy to invest in five equity funds that will make a crucial contribution to the energy transition in a variety of sectors, from water to food and infrastructure. Signing these commitments at COP27 sends a strong market signal that investing in green business models and technologies is possible and vital to our common future."