Armed with €10m in EU funding, a consortium of 21 European companies and organisations has formed to try and make timber the material of choice for multi-storey buildings instead of steel and concrete.
Their aim over the next four years is to remove barriers to timber construction by developing standard, industrialised timber building systems, while documenting the environmental, economic and social benefits.
The group believes timber could be used to build the estimated 1.6 million new apartment units needed every year across Europe.
Partners include universities and technical institutes as well as companies from different parts of the construction supply chain, from building materials and design to finished structures.
UK timber specialist Waugh Thistleton Architects is the sole UK member of the group. Canadian construction group EllisDon is also a member.
Project coordinator Niels Morsing, from the Danish Technological Institute, said they wanted to "take multi-story wood buildings mainstream". 
"Our goal is simple: to make wood the common choice of material for construction of multi-story buildings.
"We're not trying to create the world's tallest wood building, we're trying to maximise our impact by targeting wood-based building systems for 3-10 storey buildings, where European demand is highest."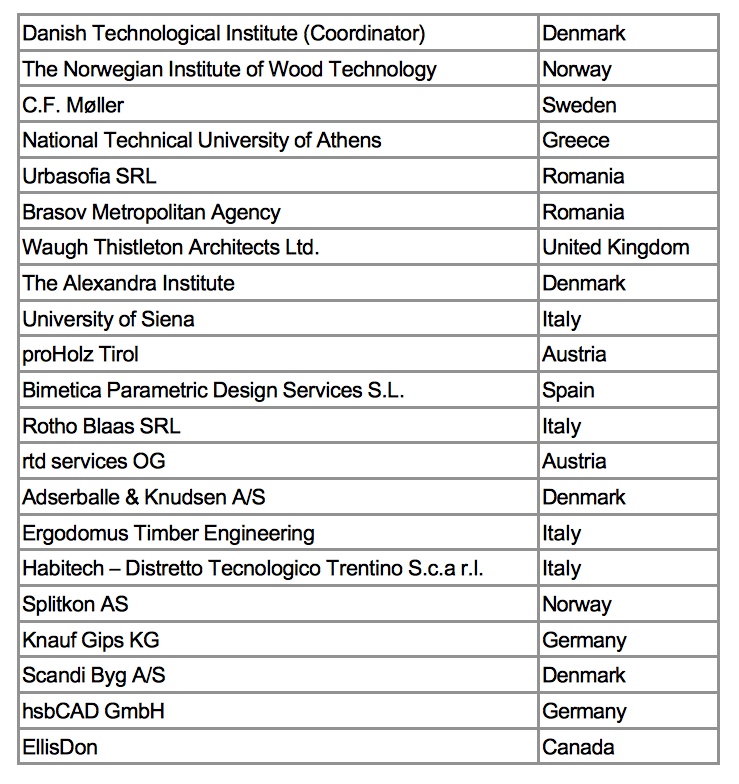 The 21 Build-in-Wood consortium partners
Building with timber would drastically cut the industry's CO2 emissions, Morsing said, not least by cutting the need for concrete and steel, the production of which is polluting and energy intensive.
A renewable resource, trees also sequester CO2 from the atmosphere, meaning buildings could double as useful carbon sinks, the group said.
Timber may also hold the key to big productivity gains in construction, they added, saying timber facilitates fast construction, lighter materials, easier transport and assembly, high prefabrication potential, and a silent and cleaner working environment.
"Since wood is significantly lighter than for example concrete, the need for heavy transportation in the building process is reduced and you can build more storeys and gain more square meters in areas where ground conditions limit the weight of the building. So, there are not only environmental reasons but also economic arguments for increasing the use of wood in construction," said Morsing.
Called "Build-in-Wood", the initiative also involves end users, politicians, and local communities to push for the acceptance of wood as a building material.
With funding from the EU's Horizon 2020 research and innovation programme, Build-in-Wood runs until August 2023.
Top image: A nine-storey timber building in Kajstaden, Sweden (Photograph by C.F. Møller)