The European Investment Bank (EIB) has provided €200m for work on 120km of railways to prepare for the opening of the Fehmarn Belt undersea tunnel.
A/S Femern Landanlaeg, the firm behind the Danish section of the Fehmarn Belt railway connection between southern Denmark and Hamburg in Germany, will receive the financing, which is guaranteed by the Danish state.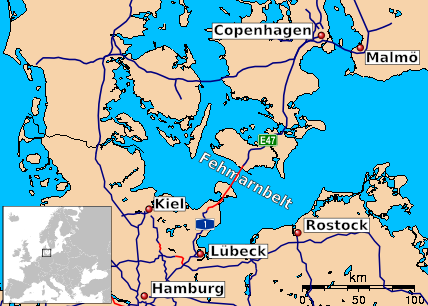 The Fehmarn Belt bridge route (Wikimedia Commons/CC BY-SA 3.0)
Work on the project includes modernising tracks on 80km of railway between Ringsted and Nykøbing Falster, and building a second track along the route.
A/S Femern Landanlaeg will also complete bridge works on a 40km stretch between Nykøbing Falster and Rødby.
Railways will be modernised and electrified, and the European Railway Traffic Management System will be installed.
When combined with the newly constructed tracks and the Fehmarn Belt undersea tunnel, high-speed trains will be able to travel between Hamburg and Copenhagen in under three hours.
Alexander Stubb, EIB vice-president, said: "Let's face it: we all know that to reach the goals set by the Paris agreement, we need to cut our CO2 emissions.
"You can do this by cutting on travel, business and tourism, but the better option is probably to provide alternative modes of transportation that do not hurt the environment as much.
"The EIB is the biggest financier of climate-relevant projects in the world, and we're 100% behind the Fehmarn Belt railway link." Â 
Violeta Bulc, EU Commissioner for Transport, said: "The Fehmarn Belt tunnel between Denmark and Germany is a key project to bring Europeans closer
"The combination of a €123.5m grant from the Connecting Europe Facility with the EIB's loan will allow decisive progress on the Danish access route, mobilising an overall investment of more than €500m in the EU economy."
Top image: The Fehmarn Belt undersea tunnel (Femern Landanlaeg)