Work is nearly finished on a four-year project to drill an 11km undersea tunnel between the two biggest of the Faroe Islands, Streymoy and its eastern neighbour, Eysturoy.
The system is due to open on 19 December, reports BBC News. 
The $166m tunnel features what may be the world's first undersea roundabout, with light effects designed by local artist Tróndur Patursson.
The tunnel will cut the travel time from 74 minutes to 16 between Tórshavn on Streymoy, the capital of the Islands, and the port-village of Runavík on the island of Eysturoy to the east.
The roundabout is located where the tunnel splits in two in its approach to Eysturoy, with each end surfacing on either side of the Skala fjord.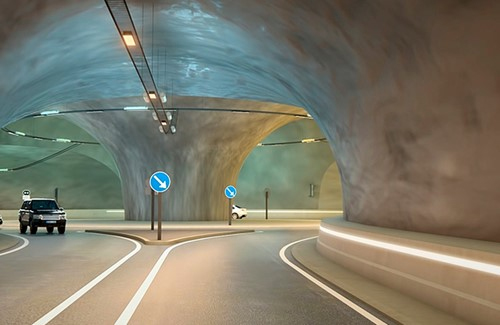 The tunnel's roundabout is located where it bifurcates, with two branches going to either side of the Skala fjord. (Courtesy of developer Eystur-og Sandoyartunlar/www.estunlar.fo)
The project is being developed by Eystur-og Sandoyartunlar, a company set up by the County Council of the Faroe Islands, an autonomous territory comprising 18 islands within the Kingdom of Denmark.
As well as the Tórshavn-Runavík tunnel, the company is working on a second tunnel between Streymoy and the southern island of Sandoy.
Both tunnels, which are about the same length and cost, are being built by Swedish contractor NCC using a combination of drilling and blasting.
The company built two other tunnels on the island in the 2000s which, it notes, furnished it with useful data for its current project.
Faroese sculptor Tróndur Patursson (Ronni Poulsen/CC BY-SA 3.0)
Alf Helge Tollefsen, NCC's project manager, speaking last year, commented that work on the tunnel had been complicated by the poor quality of the rock. He said: "The tunnel required considerably more injection than was typical for the other tunnels on the Faroe Islands – 7,500 tonnes of injection grout, to be precise."
Work began on the Streymoy-Sandoy tunnel in June last year, and will complete in 2023.
The construction of road tunnels through the steep mountains of the Faroe Islands began in the 1960s.
The archipelago now hosts a total of 19 tunnels. Two of them are subsea tunnels built by NCC in the early 2000s. All other roads between the islands are connected by bridges and ferries.
Top image: Diagram shows alignment of the Streymoy-to-Eysturoy tunnel (Courtesy of developer Eystur-og Sandoyartunlar/www.estunlar.fo)