30 April 2014
South African president Jacob Zuma is facing a general election in two weeks dogged by allegations that he benefited from $23m of publicly funded construction work at his private residence. Here, David Rogers speaks to one of the South African reporters who broke the story.
Opinion polls in the country indicate that although the ANC is assured of victory on 7 May its share of the vote could fall from 66% in the 2009 election to 56%. If the party's share falls below 60% it is thought that Zuma may be forced to step down.
The president is accused of having an amphitheatre, a helicopter pad, cattle pens and a swimming pool constructed at his Nkandla residence in KwaZulu-Natal province.
The works were carried out at the order of Thembelani Nxesi, the minister for public works. It was subsequently claimed that the amphitheatre was really a retaining wall and the swimming pool was a fire safety measure.
The story was originally broken in 2009 by the South Africa's Mail & Guardian newspaper, which estimated that the cost of the work was less than £1m. Since then, assessment of what was spent has increased to more than 20 times that figure.
Investigations into the "Nkandlagate" recently led to a 432-page report by the country's Public Protector, Ms. Thuli Madonsela, who acts as South Africa's ombudsman.
Her report, entitled "Secure in Comfort", was finally published in March after a long legal battle.
Lionel Faull, a reporter with the Mail & Guardian, told GCR that the report found that although Zuma was cleared of misleading parliament, he was found guilty of benefiting unduly from public money.
"There is talk in government circles that there might be consequences for Zuma internally if support dips below 60%, but there have been no resignations or censure in parliament," Faull said.
"In South Africa, you really have to be out of favour for anything to happen to you," he said. "The ANC has decided that Zuma will be their election candidate so it would be mighty embarrassing if he were to resign. The strategy has been closing of ranks."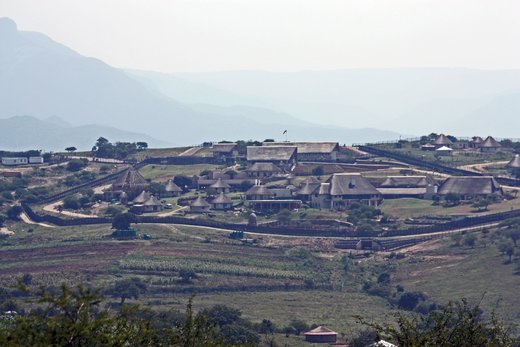 President Zuma's Nkandla compound, complete with retaining wall and fire safety measures (John A Forbes/Wikimedia Commons)
Although the Public Protector did find that there has been misuse of public funds, her recommendations do not have the weight of a court judgment.
"Her recommendations are supposed to be acted on by the arms of government," said Faull, "but in practice the ones that suit the powers that be get followed and the ones that don't get ignored."
The ongoing probe into the affair is being carried out by the special investigating unit, which is under the control of Zuma himself. He has asked the unit to investigate Nkandla, but the scope is limited to finding which officials in the ministry of public works were responsible for the building work.
This has led to accusations that the ANC is hoping to find scapegoats within the South African civil service. Faull commented that the probe was being used by Zuma as an excuse to delay his response the public protector's report until after the elections.
Faull said: "The South African public is not stupid and not easily misled. Everyone knows what a swimming pool is. And for years now there have been attempts at cover ups and obfuscation and this is just more of the same desperate tap dancing."
The latest twist
The most recent development of the case came yesterday when a court in Pretoria ordered the Department of Public Works (DPW) to hand over documents relating to Nkandlagate to the Mail & Guardian.
"Eighteen months ago," Faull said, "we took the DPW to court to force them to reveal details of how the projects were managed, and they eventually released a mass of documents to us, but all related to low-level decisions. All decisions made at national level were kept out, so we went back to court and a judge has just ordered that these be handed over within 30 days."
He added that there is a weariness with corruption stories in South Africa, and the public only took notice of "humdingers".
According to Faull, there is a tradition of corruption in South Africa based around the DPW.
"The sickening thing is to compare [the current government] with the days of Mandela. He was very humble, and his efforts at fund raising were done for other people. Under Zuma there is a culture of self-entitlement, and a culture of making sure the big man is okay.
"It almost means that what the big man want materialises without him really having to do anything, so he can deny it. But that culture doesn't materialise out of nowhere. At some point he and the people around him must have helped to create it."