FIFA inspectors say they are happy with Russia's progress in building stadia for the 2018 World Cup after visiting five sites, two of which are already complete.
The leader of the delegation, Christian Unger, defended the decision to conduct only "virtual" tours of the remaining sites.
"It's our first visit to Russia, and we're happy with the results for the moment," said Unger, the FIFA executive overseeing preparations for the 2018 tournament. "But we would like to see positive changes in our every new visit here."
The 40-strong delegation, comprising experts from FIFA and Russian organisers, began its visit last Thursday with the inspection of the as-yet-unnamed stadium under construction in St. Petersburg, home to the city's Zenit football team. On Friday it inspected the Kazan Arena, which opened July 2013. On Saturday inspectors traveled to Sochi to evaluate the Fisht Stadium, built for the Winter Olympics. While this stadium is complete, there are plans to remove its roof for the World Cup.
Inspectors spent Sunday and Monday in Moscow visiting the Otkrytie Arena, home to Spartak football club, which opened in August this year, and Luzhniki Stadium, which is set to host the World Cup final in July 2018. Originally opened in 1956, the historic Luzhniki Stadium is undergoing a complete internal reconstruction.
In all, Russia's World Cup plans involve 12 stadia in 11 host cities.
Yesterday FIFA's Unger defended the decision to inspect only stadia that are finished or underway, and not ones in provincial cities that are much further behind. They will receive "virtual inspections," which Unger insisted would be rigorous.
"It's not something that we walk away saying: 'Oh, we've seen the plans, now we're satisfied'," he said, reported The Moscow Times. "It's a process. We come back, we see what progress has been made, see if the plans are accurate, we validate."
FIFA's preliminary assessment will be encouraging for Russian World Cup organisers. In April, sports minister Vitaly Mutko told the Russian parliament that the host cities would avoid the "Brazilian scenario", meaning the delays, fatalities and confusion that plagued Brazil's preparations for the 2014 World Cup.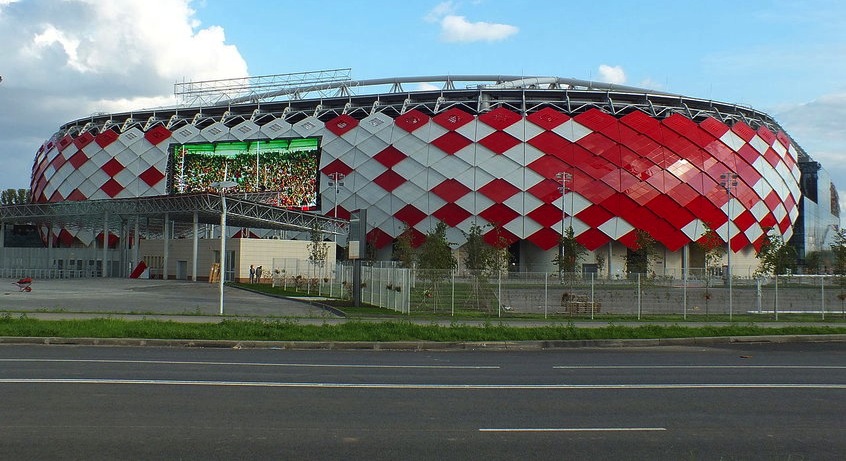 Moscow's new Otkrytie Arena, home to Spartak football club, opened August 2014 (Brateevsky/Wikimedia Commons)
Concerns remain over the cost of preparing for the tournament, however. In 2012 the official budget was set at 664.1 billion rubles, just over $16bn at current exchange rates. In July the Swiss academic Martin Müller said the total projected cost had increased to $25.5bn, setting 2018 on course to be the most expensive World Cup ever.
In a paper, Müller argued that a lack of transparency and a "deficient competitive environment" had already inflated stadia costs. "With the pretext of having to conform to tight schedules and high expectations, overblown budgets and rent seeking have become the norm," he wrote.
Yesterday, Russian news agency TASS reported that Russian President Vladimir Putin had said financing World Cup preparations would be an "uneasy story", but manageable.
Cost pressures were apparent in a stand-off over the summer between the Kremlin and one of Russia's biggest contractors, Stroytransgaz, whose boss threatened to walk away from two new stadia – at Volgograd and Nizhny Novgorod – unless the government allocated an extra $110m for their construction.
Stroytransgaz' owner Gennady Timchenko said the government needed to raise its contribution from $420m to $475m for each, or he would make a loss. The company appeared to back-track earlier this month, however, when it told TASS news agency that the Volgograd stadium could be built for $420m after all.
Yesterday, Russian Prime Minister Dmitry Medvedev decreed that the Nizhny Novgorod stadium would only cost $414m, without giving details. 
Russia's economy is suffering. Last week ratings agency Moody's downgraded the country's investment rating one notch, from "Baa1" to "Baa2", its second-lowest grade. The agency cited Russia's "increasingly subdued" growth prospects, exacerbated by the Ukraine crisis, the impact of sanctions, capital flight, and low oil prices.