The first 1.5MW turbine has begun operation at Atlantis Resources' MeyGen scheme in northwest Scotland. When the project is complete, it will generate up to 400MW of electricity, making it the largest tidal energy scheme in the world.
"This is the moment we have been working towards since we first identified the MeyGen site back in 2007," Tim Cornelius, chief executive of Atlantis, told the BBC.
"It's especially exciting to be making this announcement on the morning after the first 'super moon' in 68 years – last night, those of us with clear skies were able to get a good view of the powerhouse behind tidal energy, and be reminded that even in times like these there are still predictions we can rely on."
Located in the Pentland Firth, between John o'Groats and the Orkney Islands, the MeyGen scheme envisions 269 turbines eventually spinning on the seabed, outstripping the current largest tidal scheme, Korea's Sihwa Lake Tidal Power Station, which generates 240MW.
The crew of the Ares installing the first turbine (Atlantis Resources)
But this turbine is the first of four to be installed as a demonstration project before Phase 1 of MeyGen is installed.
Phase 1 involves 86 turbines, which would generate enough power for around 42,000 homes, nearly 40% of households in the Scottish Highlands, says Swiss engineer ABB, which was contracted to provide onshore grid connection.
Within the next ten years, MeyGen hopes to deploy up to 398MW of offshore tidal stream turbines in the Pentland Firth to supply electricity to the UK National Grid.
Studies indicate that the Pentland Firth's tidal stream has vast energy potential, with ocean currents estimated at 5 meters per second, among the fastest in the British Isles, says ABB.
Atlantis Resources, 85% owner of the MeyGen consortium, obtained the lease for the 3.5-sq-km site from the Crown Estate in 2010.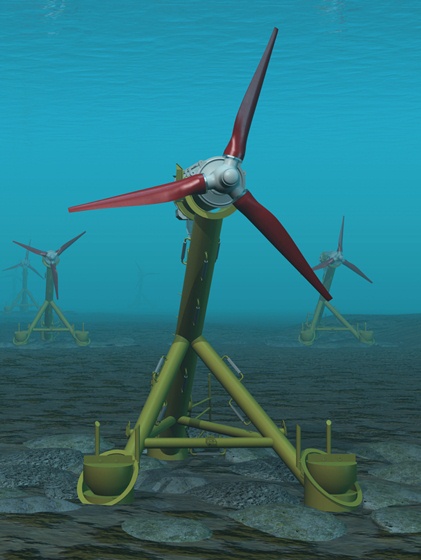 Render of a turbine made by Andritz Hydro Hammerfest
Work on electrical infrastructure and civil engineering needed to bring the power to Scotland's mainland started in 2014.
Transformers were supplied by ABB and the civil engineering was done by local firm John Gunn & Sons. The 17km of onshore cabling was carried out by Scottish Hydro Electric Power Distribution, and the turbine, which was made by Andritz Hydro Hammerfest, was installed by James Fisher Marine Services.
Three more turbines await placement at the site; eventually, Atlantis plans to install 269 of them.
Atlantis Resources is a tidal generation company incorporated in Singapore and listed on the London alternative investment market (AIM).
The Scottish government provided £23m in funding to help develop the site. This scheme is something of a loss leader: the energy it produces is being bought for a price of £305/MWh, compared with £155 for offshore wind.
Image: The crew of the vessel Ares installing the first turbine (Atlantis Resources)