The winner of the 2018 Skyscraper Competition ran by eVolo Magazine is Skyshelter.zip, a foldable tower designed by a Polish team of Damian Granosik, Jakub Kulisa, and Piotr Panczyk.
Skyshelter.zip is designed to be used in disaster areas and is expandable using helium balloons in a way that resembles an accordion.
The tower would take up about a thirtieth of the space required to house the same number of people in tents. It is designed to be used in densely populated areas and would allow displaced people to be located near to their homes.
Skyshelter.zip is described as "easy to transport and can be deployed with a minimum amount of time and manpower", with basic ground supports holding the structure in place. The unfolding is carried out with the help of a load-bearing helium balloon placed within the shelter and protected from external forces.
Second place in the competition went to the "Shinto Shrine/Urban Rice Farming Skyscraper", a project designed to "restore the traditional interactions between Jinja – a Japanese Shinto Shrine – and local people".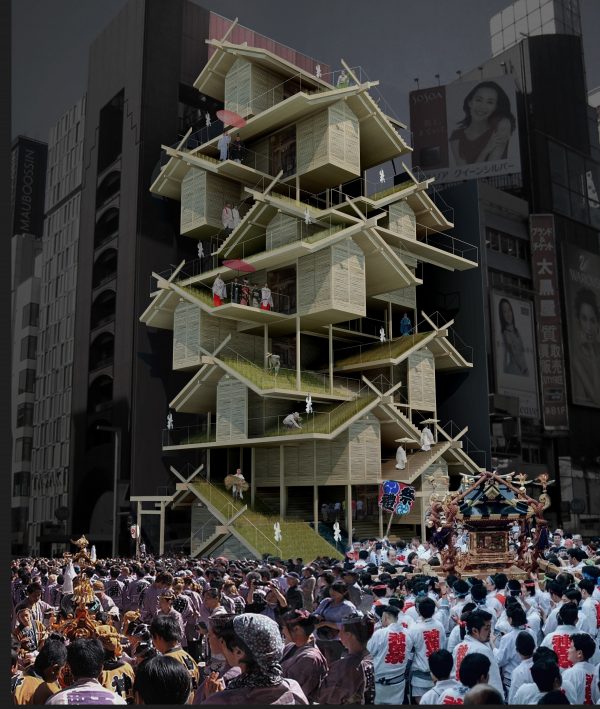 Tony Leung's 2nd place submission
Designed by Hong Kong-based architect Tony Leung, the 96m-tall submission suggests repurposing an urban corner in the Ginza in central Tokyo with a vertical shrine and rice-farming complex, which eVolo describes as the historical "centre of Japanese economy" and a focus of everyday interaction.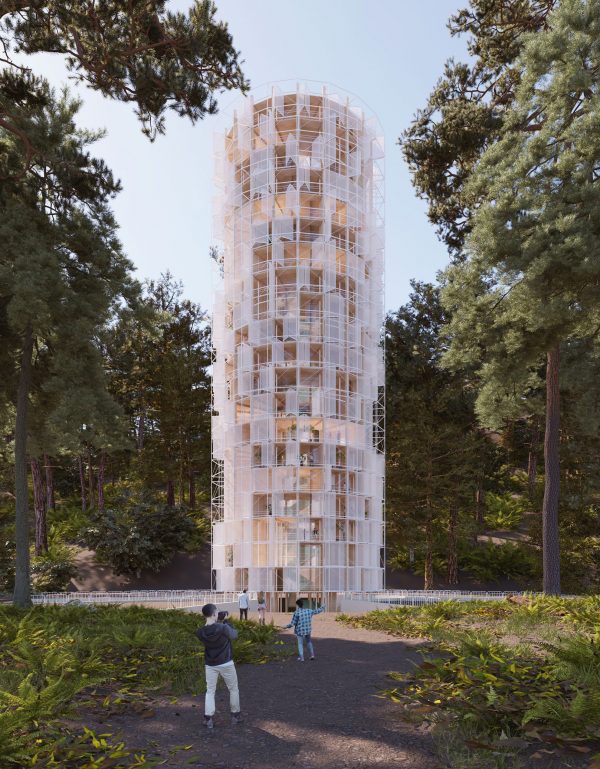 Fire Prevention Skyscraper came 3rd
In third place was Chilean architect Claudio Araya Arias' "Fire Prevention Skyscraper", a modular structure designed to be built in areas affected by forest fires, like the 2017 fires in central Chile that affected 570,000ha of land and destroyed 2,500 homes.
The project is designed to be built on the perimeter of an affected area, aiming to be at the center of a "network of routes, public spaces and wetlands".
Some 526 projects were submitted for the competition, with the winners challenging "the way we understand vertical architecture and its relationship with the natural and built environments".
Top image: Winning project Skyshelter.zip (All images courtesy of eVolo Magazine)