London-based architect Foster + Partners has designed an administrative capital for the southeast Indian state of Andhra Pradesh.
Located on the banks of the River Krishna, the city of Amaravati will mark the change in state boundaries between Andhra Pradesh and the newly created state of Telangana.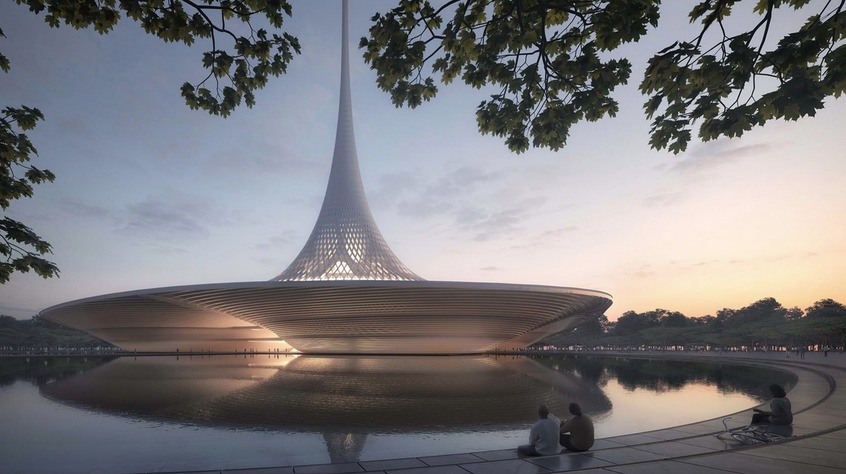 Foster + Partners' masterplan includes the overview of the 217 sq km state capital as well as government buildings in a central 5.5km by 1km complex, such as:
A legislative assembly building that sits within a large freshwater lake
The high court complex with a stepped roof form inspired by India's ancient stupas or chaityas, a mound-shaped structure traditionally used for meditation
Secretariat and cultural buildings where offices of state administration will be located.
The architect says Amaravati will be "one of the most sustainable cities in the world", as 60% of it will be covered by greenery or water. 
The project has been designed to include routes for green transport such as electric vehicles, water taxis bicycles, as well as shaded areas for walking.
A mixed-use quarter will include 13 urban plazas, signifying the 13 state districts in Andhra Pradesh.
Lord Foster, Foster + Partners' founder, said: "We are delighted to be working with the chief minister and the government of Andhra Pradesh to help them realise their ideas for the People's Capital and to build a clear and inspiring vision for the governmental complex at Amaravati.
"The design brings together our decades-long research into sustainable cities, incorporating the latest technologies that are currently being developed in India."
Images courtesy of Foster + Partners