A 96,300 square metre research and development centre designed by UK architect Foster + Partners has opened in Daejeon, South Korea.
The client for the complex, titled the "Technodrome", is the Hankook Tire company. The aim of bringing in Foster's brand of highly engineered minimalism is to help attract the industry's "top talent and provide an inspirational place to work".
The development contains "light filled offices, advanced laboratories and dynamic social spaces to nurture a culture of openness and innovation".
Located in the heart of Asia's "Silicon Valley", the centrepiece of the facility are the tire testing and research laboratories, which are on display to invited visitors and staff.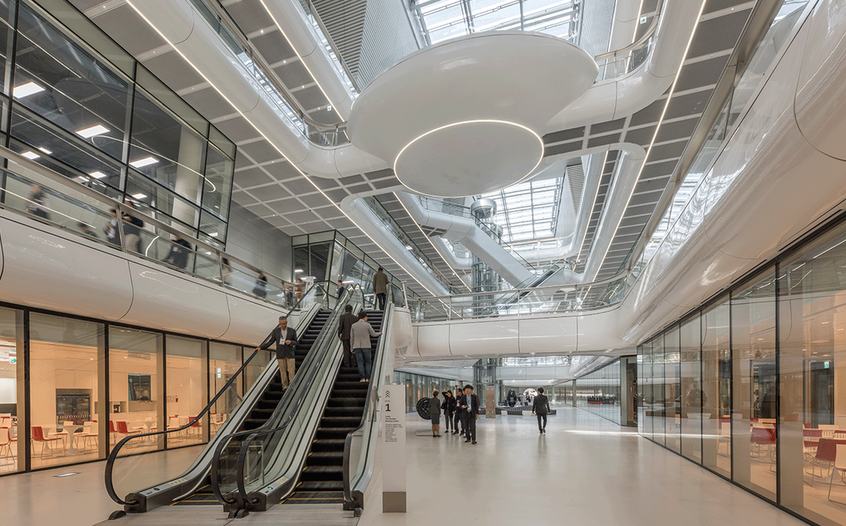 Foster + Partners aimed to create a "sleek, contemporary and mysterious building with a floating silver roof" containing "isolation pits to double-height spaces to accommodate specialist equipment".
Research spaces extend along a top-lit central spine that runs from the restaurant and entrance in the south to the staff accommodation to the north.
A lobby functions as an exhibition space for the latest product range, with views into the testing areas and the parkland outside.
The centre has attained a LEED Gold rating and uses waste heat to warm the adjacent dormitory building, which accommodates visitors and staff, and a lake at the southern entrance to the site harvests rainwater for use in cooling.
Iwan Jones, a partner in Foster + Partners, said: "The key design objectives for, the Hankook Technodome were two-fold – to reinvent the Hankook Tire's image and to create an integrated working environment for the office and laboratory staff.
"The spatial arrangement encourages visual connectivity and physical interaction. Testing facilities are on display and circulation and meeting spaces are shared to enhance interaction."
Images via Foster + Partners