The UK construction industry has recorded its first negative growth for 11 months as housebuilding slows and clients delay capital investments until Brexit is resolved.
The IHS Markit/CIPS Purchasing Managers' Index (PMI) was at 49.5 in February, down from 50.6 in January. A figure of less than 50 indicates that more respondents expect less activity than in the previous period.
This is the first time the index has been in negative territory since the icy spell of March 2018 (pictured), and marks the lowest point for the industry since September 2017.
Duncan Brock, group director at CIPS, said: "In short, the foundations of the construction sector are crumbling under the weight of Brexit and businesses are switching to survival mode until the way forward is cleared."
The survey found that residential work was the best performing area but the rate of expansion was modest and not enough to offset declines in the commercial and civil engineering categories.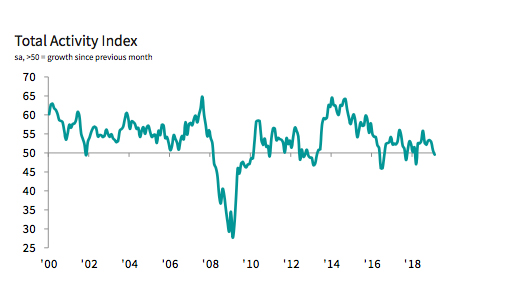 The IHS Markit/CIPS track of UK construction since the crash
Tim Moore, economics associate director at IHS Markit, said the key factor in the decline was a loss of confidence in the commercial sector, which is more exposed to Brexit risk than residential. He commented: "Risk aversion in the commercial subcategory has exerted a downward influence on workloads throughout the year so far. This reflects softer business spending on fixed assets such as industrial units, offices and retail space.
"The fall in commercial work therefore hints at a further slide in domestic business investment during the first quarter, continuing the declines seen in 2018."
Moore also added that residential may not be able to underpin the industry for long, as the UK's fragile housing market had "begun to act as a brake on residential work" leaving the sector "increasingly reliant on large-scale infrastructure projects for growth over the year ahead".
Top image: The beast arrives in London: The last time things were this bad was March 2018 (Martin Tooth)
Further reading: