Four people are now known to have died and 159 remain unaccounted after the catastrophic partial collapse of a 12-storey, 136-unit apartment building in the Surfside district of Miami-Dade County, Florida.
The latest update came at approximately 8.15am local time after some 130 Miami-Dade Fire Rescue service personnel spent a second night painstakingly searching for voids in a vast and unstable pile of rubble.
Teams have been using sniffer dogs and listening devices to try and locate survivors amid the wreckage, working both from the top of the pile and from underneath through a parking garage.
The northeast part of the 40-year-old building gave way at around 1.20am local time on Thursday, 24 June. The unexplained collapse affected at least 55 apartments at a time when most residents would be expected to be asleep.
"We have hope," fire and police officials told reporters at the briefing.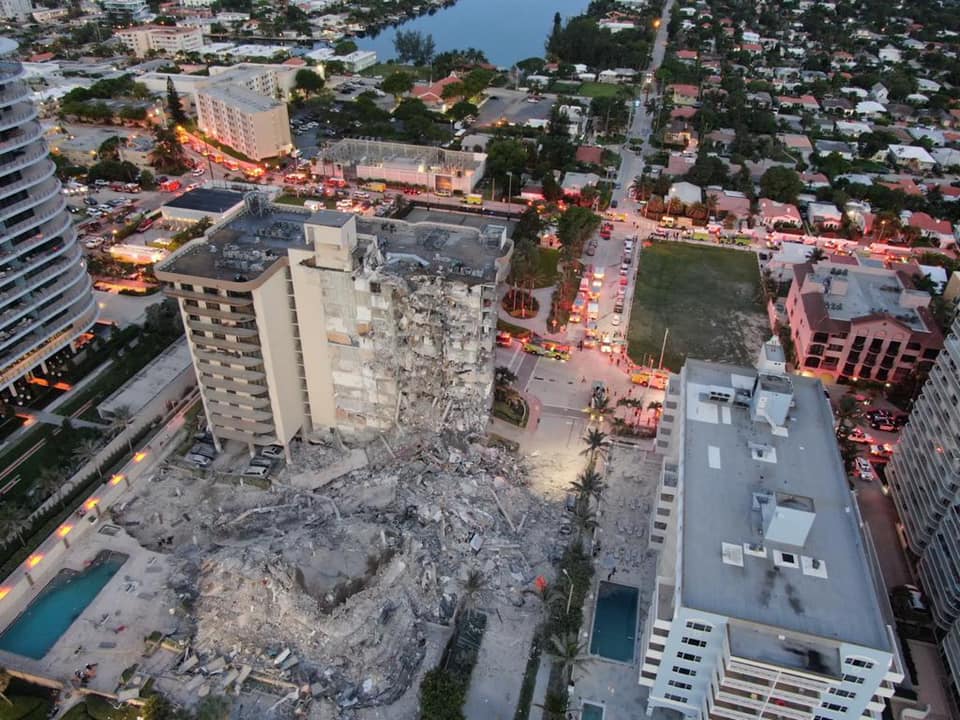 Some 55 apartments were affected by the collapse of the 12-storey, 136-unit apartment building in the Surfside district (Miami-Dade Fire Rescue)
They acknowledged that rescuers were risking their lives in the search. "Debris is falling on them," said Miami-Dade County Mayor Daniella Levine Cava.
Help has been requested from six other fire rescue teams from across the state of Florida.
Fifteen personnel from the Federal Emergency Management Agency (FEMA) have arrived in Surfside since President Joe Biden declared a state of emergency in Florida at 12.26am this morning.
Miami-Dade Fire Rescue service (MDFR) said 35 people had been rescued, 10 of whom were treated for injuries.
The cause of the collapse is unknown. The building at Champlain Towers, 8777 Collins Avenue, had been in the early stages of its 40-year recertification process, which would have examined its structural soundness, reports The Miami Herald.
Edited 25 June 2021 to update the number of people unaccounted for
Top image: Teams have been using sniffer dogs and listening devices to try and locate survivors amid the wreckage (Miami-Dade Fire Rescue)