13 August 2013
Construction of a new rail tunnel through the Georgian-Turkish border is to begin soon, sources say.
The tunnel is part of the 105km Baku-Tbilisi-Kars railway line linking Turkey, Georgia and Azerbaijan.
According to Trend News Agency, Azerbaijan Railways chairman Arif Asgarov said that the equipment and machinery have been delivered and construction work is planned to be launched in the near future.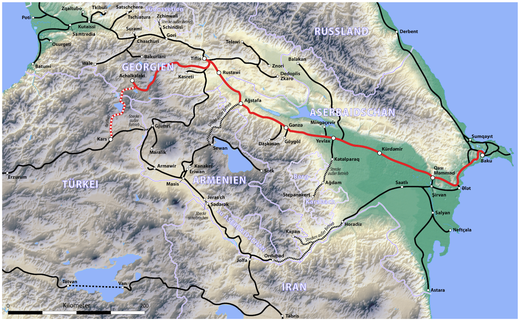 The Baku-Tbilisi-Kars railway line will connect Turkey, Georgia and Azerbaijan (Maximilian Dörrbecker (Chumwa)/Wikimedia Commons)
Turkish Minister of Transport, Shipping and Communications, Binali Yildirim, said that construction of the railway would be completed in 2014.
Once complete, the railway line, which will have direct access to the European rail network, is expected to transport approximately 30 million tons of cargo a year.
Since planning began, the risk of landslides have led to the tunnel length being increased to 2km from 1.2km, Mr Asgarov said.