It may be small but, to green energy fans, it's beautiful: the village of Feldheim in Germany is the country's first to leave the national grid and power itself completely by renewables.
This money is no longer going to Arab sheiks or Vladimir Putin– Werner Frohwitter, Feldheim energy co-operative
Around 150 residents have more than enough power from a nearby windfarm and solar array, and they have plenty of heat from a manure-fed biogas plant.
With its very own grid, and a partnership with energy firm Energiequelle GmBH, the village is proud of its achievement, and the fact that it doesn't have to pay for 160,000 litres of heating oil every year.
"This money is no longer going to Arab sheiks or Vladimir Putin," resident Werner Frohwitter, of the local energy co-operative, told news agency AFP. "This money is now staying right here."
Germany is often held up as leading the charge among industrialised nations towards a non-fossil-fuel future. Under its "Energiewende" strategy ("energy shift"), it wants to generate 80% of the electricity it needs with renewables, up from one quarter now. It plans to switch off its last nuclear plant in 2022.
But if the country is leading the charge, this village, located in the countryside 70km southwest of Berlin, is its vanguard. 
Wind, sun, manure
The set-up is fairly straightforward. 
Forty-three wind turbines with an total installed electrical capacity of 74.1 MW are operated by Energiequelle GmbH, as is the separate power grid.
Energiequelle also built a solar farm on a nearby former military site. A total of 9,844 photovoltaic modules mounted on 284 trackers produce 2,748 Mwh each year, enough to cover the annual power requirements of around 600 households – far more than the 37 houses, three farmsteads and two businesses that call Feldheim home.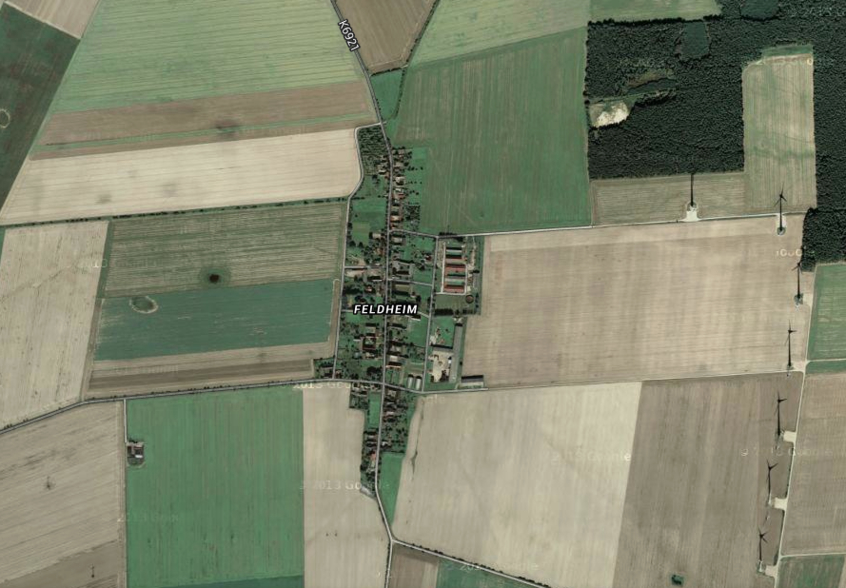 Three thousand green-energy pilgrims from around the world visited this small, rural village in 2011 (Google Maps)
In 2008 the village got its own biogas plant, which is operated by the local agricultural cooperative. Into this plant every year go 2,000cubic metres of pig manure, 1,500 cubic metres of cow manure, 6,125 tonnes of maize and 650 tonnes of wholegrain cereal – all produced locally. 
The plant generates 4 million kWh of electricity a year, which is fed into the public grid, while the heat produced during power generation is fed into a separately-installed district heating grid that warms Feldheim's homes and businesses. 
The owner of the district heating grid is Feldheim Energie a limited partnership formed by the connected households, enterprises and the local municipality of Treuenbrietzen. Energiequelle owns the separate power grid.
Building the grids took a substantial investment. Some cash was obtained from the regional government and from EU programmes, but the villagers had to dig into their own pockets, too – 3,000 euros for each adult, according to German news magazine Der Spiegel.
The village gained its energy independence in October 2010.
Since then, it has paid off. Now Feldheimers pay about 31% less for electricity and 10% less for heating, and the project has also created about 30 jobs in Feldheim. 
According to reports, Energiequelle sells 99% of the power it generates at Feldheim back into Germany's national grid.
The next step for the village is a planned super battery that can store two-days worth of electricity for use in case of emergency.
Feldheim is certainly a beacon for green energy enthusiasts. In 2011, 3,000 people from around the world – many from Japan – made the pilgrimage to the village to see it for themselves, Der Spiegel reported.
But it is very small, with plenty of space for turbines and agricultural activity to feed its biogas plant, so its example can't be followed everywhere.
Meanwhile, doubts have been expressed over Germany's bold "Energiewende" strategy. Green surcharges have made Germany's power bills the second highest in the EU, causing anxiety for German industry amid an economic slowdown.