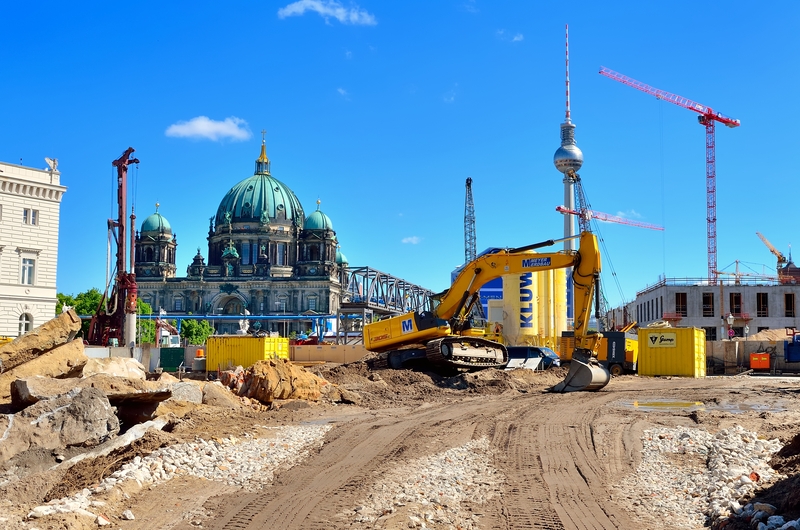 The president of IG Bau, the union that represents 900,000 of Germany's construction workers, has said a nationwide strike was "more likely than ever before in the past 20 years" in support of a demand for higher pay and other compensations.
Robert Feiger made his remarks to the Sueddeutsche Zeitung as arbitration began between IG Bau and the Central Association of the German Construction Industry (ZDB) and the Main Association of the German Construction Industry. The two sides have been in talks over improved conditions since May, without reaching a resolution.
The arbitration will be carried out by the Federal Social Court. If this fails, Feiger said the union could call its first nationwide strike since 2002. "And we know how to strike," he added.
The union is calling for a 5.3% wage increase as well as higher payment for travel times to sites that are often remote from workers' homes. This latter demand, which has been on the table since 2018, is seen as the main sticking point between the two sides.
Feiger warned: "Without the employers giving in, there will be no agreement with us this time."
The Sueddeutsche Zeitung reported that the employers entered the arbitration in similarly confrontational style. Uwe Nostitz, vice president of ZDB, accused the union of spreading fake news, and claimed that it was untrue that the commuting time payments had been ignored.
He said that the construction allowance gave workers an average of €1,000 a year for travel, and was part of framework agreements, which meant it could not be part of wage negotiations.
In Berlin, hundreds of construction workers protested with kettledrums and trumpets to publicise their demand for a bigger share of the profit from Germany's present construction boom.
Wages in Germany have been rising rapidly in the aftermath of the Covid-19 pandemic, and were 5.5% higher, year on year, than the second quarter of the year.
In another wage conflict, Germany's 16 federal states and unions will start negotiations today over higher pay for more than 2.3 million public sector workers.
In the public sector, unions are demanding a 5% pay increase, with a guaranteed rise of at least €150 a month for the lowest paid and €300 for healthcare workers.
Image: A construction site in Berlin, where labourers have taken to the streets to push their pay demands (Dreamstime)