Scientists are probing the feasibility of using lukewarm water trapped in old coal mines under the streets of Glasgow to heat homes and businesses in the city.
As much as 40% of all heat required by Glaswegians could be provided by this low-carbon resource, according to the British Geological Survey (BGS).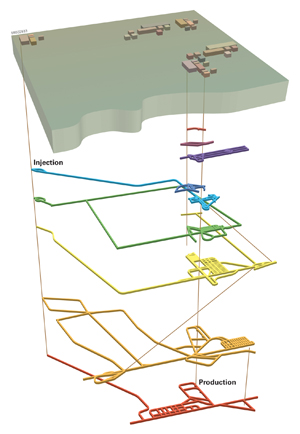 Like this, but in Glasgow: A 3D representation of a minewater-related ground source heat reservoir in the Netherlands (BGS)
The £9m project involves drilling up to 30 narrow boreholes to measure temperature, seismic activity, acidity and other variables to establish whether the water can be extracted for long periods.
From the 19th century east Glasgow was one of Scotland's busiest coal-mining areas and the ground underneath is riddled with tunnels and shafts as deep as 300m, which filled with groundwater after the pits closed.
The earth's hot core keeps the water at around 12°C, but that heat can be increased using ground source heat pumps, which work the same way as refrigerators, meaning that with relatively little energy the water can be made hot enough to heat buildings, or cool them in winter.
Working with Glasgow City Council, and using records of abandoned mines dating back to 1839, BGS created detailed 3D geological models of mineworks under Glasgow.
Its hydrogeologists estimate that as much as 40% of Glasgow's heat can be provided in this way, and that by extracting just one percent the underground heat a year, the city could have a low-carbon source of energy for at least 100 years.
Glasgow's council leader Gordon Matheson called it a "green energy revolution", adding, "We want developers and local communities to come forward in the future with projects which could use this new source of heating".
BGS is confident the approach could work because a small application of the technique has been in operation for ten years in Shettleston, east Glasgow, where 17 houses are kept warm by mine water.
The £9m comes from the UK's Department for Business, Energy & Industrial Strategy (BEIS), and is part of a plan to investigate the potential of geothermal energy in the country.
The BGS observes that ground source heat pump (GSHP) technology is widely used in other European countries, but not in the UK, where temperatures are milder and primary energy prices are relatively low.
It says GSHP costs more to set up than conventional heating techniques, but running costs are only around half as expensive and carbon emissions can be cut by 40% in the GSHP approach, compared to conventional heating.
Top image: View over south east Glasgow (Ross Little/Wikimedia Commons)