Four bidders have expressed an interest in bidding for a €1.5bn project to expand Athens metro system, state-owned Attiko Metro said last week.
The network presently consists of three lines serving 61 stations. The plan is to extend lines two and three and build a fourth line to cover the gap between one and three (see map). Work on the Line 3 extension is already under way.
The potential bidders for the 13km Line 4 have already formed consortiums for the project. They are:Â 
Greek contractor GEK Terna with global heavyweights Vinci and Siemens
Another Greek contractor, J&P Avax, with Italian civil engineer Ghella and French rolling stock maker Alstom
Greek construction firm Aktor with Italian signalling specialist Ansaldo and the Italian subsidiary of Japanese train maker Hitachi Rail
Spanish giant FCC with Athenian ports specialist Archirodon and industrial conglomerate Mytilineos.
The tunnel boring machine arrives at Maniatika Station as part of the work on line three
Greek commentators had expected have expressed surprise that Vinci and Aktor have joined different teams, as they have been allies in the past. Metka, Salini Impregilo, Hyundai and Hochtief have been tipped to enter the race in future and a bid from a Chinese contractor is also possible.
There has also been speculation that Greek contractors would form a national team, however in the event the deep pockets of the multinationals were deemed necessary for success.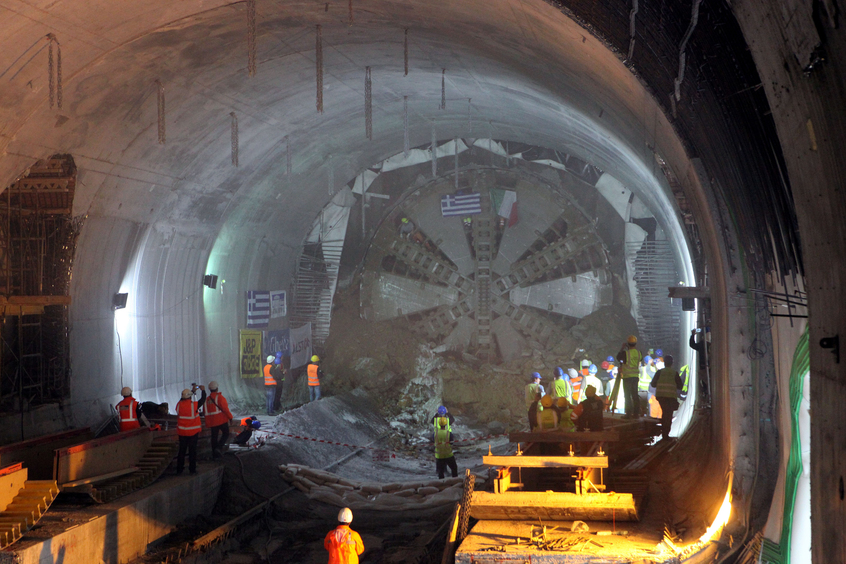 The Ministry of Infrastructure's development plan. The extensions are shown as dotted lines and the new Line 4 is in yellow
Attiko Metro will choose its shortlist by the end of the year, after which the successful consortiums will have to submit technical and financial bids for the project. The project is being co-financed by EU funds and loans from the European Investment Bank.
The line will use automatic, driverless trains, and will serve densely populated areas of the capital. Construction is expected to begin in 2019 and will be completed within eight years.
Top image: The metro was based on the old Athens to Piraeus steam railway (Templar52/Creative Commons)

Further Reading: