Amid the depths of northern European winter, glum Dutch commuters will have their lives brightened briefly once a day by a new light show at the historic Amsterdam Central train station.
Unveiled yesterday, the spectacle designed by Dutch artist Daan Roosegaarde (born 1979) uses liquid crystal technology to unravel light into a spectrum of colours. 
Projected onto the 45-meter east side of the station, the splintered light takes on the shape, and colours, of a rainbow.
An estimated 50 million commuters will be treated to the brilliance for a brief moment after sunset each day during the year-long public art show marking the renovation and 125th anniversary of the station.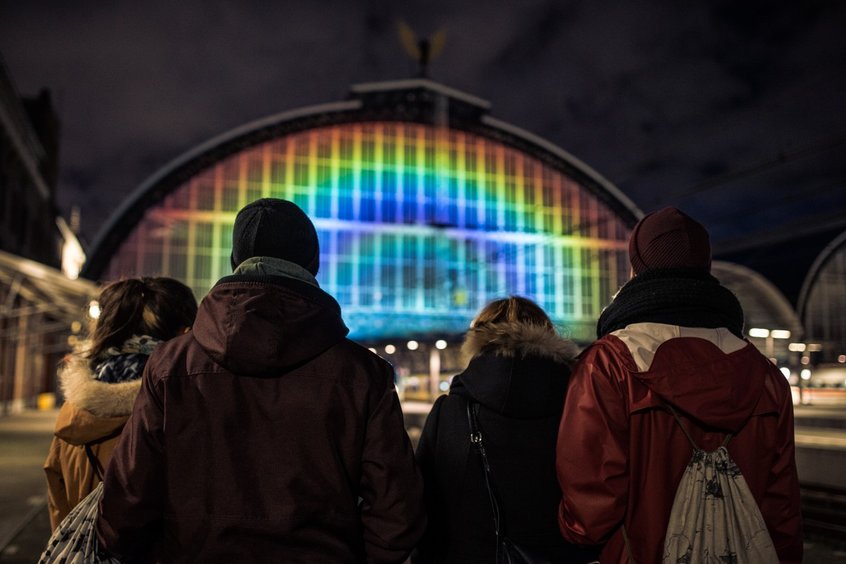 The spectacle uses liquid crystal technology to project light onto the east side of the station (Studio Roosegaarde/Pim Hendriksen)
Roosegaarde developed the lens projector that in collaboration with astronomers at the University of Leiden.
His goal may be to get commuters to switch off their phones and engage with their environment: "Rainbow Station creates a unique place for travellers, an experience you can not download," he said.
Roosegaarde also designed a glow-in-the-dark cycle path that opened to the public last month.
Photograph: The spectacle uses liquid crystal technology to project light onto the east side of the station (Studio Roosegaarde/Pim Hendriksen)