As the death toll hit 39 from yesterday's collapse of the Morandi Bridge in Genoa, the Italian government is blaming the toll road's private owner, demanding resignations and for its concession to be stripped away.
Nobody has ever crossed that bridge with a light heart– Genoese resident, Elizabeth
Italy's transport minister today said he had begun a process to fire the bridge's concession-holder, Italian motorway firm Autostrade, a unit of Atlantia group, and would be seeking to levy penalties of up to €150m.
It has also emerged that Autostrade warned of "intense degradation" of the bridge because of heavy traffic conditions seven years ago.
Local people, meanwhile, were worried about the bridge's safety, and at least one expert has previously voiced concern.
A former professional footballer who was in his car on the bridge when it collapsed, and survived, has described a feeling of "flying" as his car plunged.
"Autostrade per l'Italia was not able to fulfil its obligations under the contract regulating management of this infrastructure," Danilo Toninelli said on RAI 1 state TV, reports Reuters.
The minister also said he would seek to exact a heavy financial penalty on the company.
"I have given mandate to my ministry to start all proceedings to apply the agreement, that is to revoke the concession from these companies and seek significant sanctions which can reach up to 150 million euros based on the terms of the contract," Toninelli said.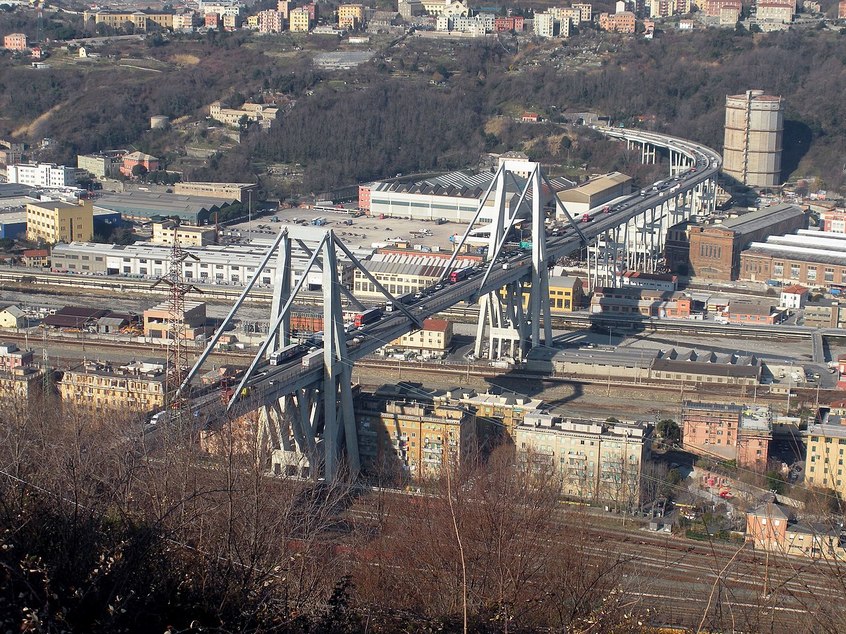 The Morandi bridge, intact, in 2012 (Bbruno/Creative Commons)
In a Facebook post Toninelli said: "The top management of Autostrade per l'Italia must step down first of all."
"These kind of tragedies cannot and should not happen in a civil country," the minister told another Italian TV channel, TG1.
"Those who will be considered responsible will need to pay to the last cent. It should not be possible to see images like these in a country like Italy."
Named after its designer, and built in 1967, the Morandi Bridge carried the A10 toll motorway across the Polcevera river valley. In heavy rain yesterday at approximately 11.30am local time, an entire 80-metre span fell free without warning, sending the concrete deck carrying dozens of cars and trucks crashing onto onto a riverbed, a railway and two warehouses.
Autostrade's share price fell yesterday, with the company losing around €1.1bn in market capitalisation, reported Italy's Ansa news agency.
As rescuers began searching for survivors among the boulder-sized chunks of debris, other buildings in the area were evacuated over fears that parts of the structure still standing could also collapse, reported Ansa.
With the A10 being a major logistics artery for Italy, there had been prior concern over the bridge's condition as traffic levels grew.
The owner Autostrade warned in a 2011 report that the bridge was suffering from "intense degradation".
The "queues of cars and the volume of traffic provoke intense degradation of the bridge structure on a daily basis in rush hour, as it is subject to major demands", the report, quoted by Ansa, said.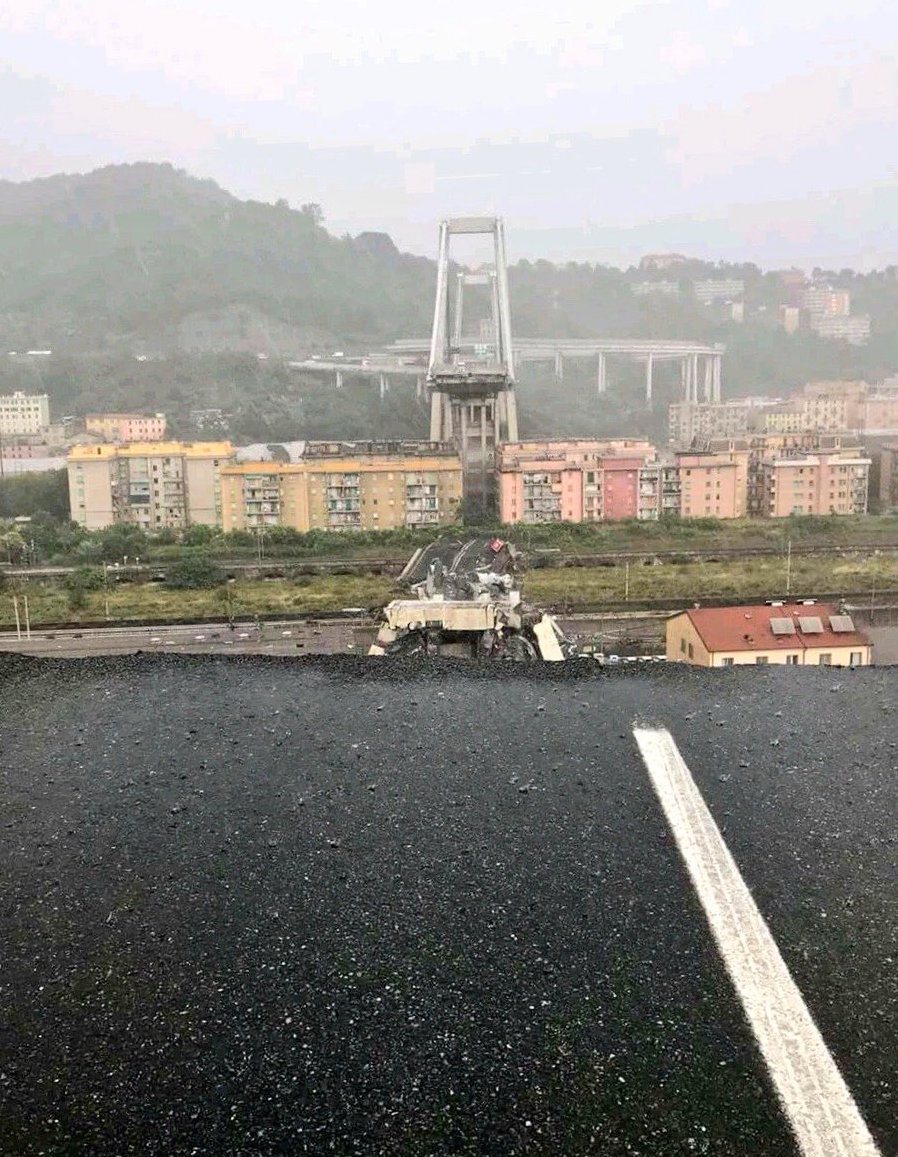 View from the edge of the sheared span on 14 August 2018 (Municipality of Genoa, via Twitter)
Autostrade said work to shore up the bridge's foundation was being carried out at the time of the collapse, reports the BBC.
Local people had been worried the bridge was unsafe for a long time, according to one Genoa resident.
"The state of the bridge always concerned us. Nobody has ever crossed that bridge with a light heart," the woman, called Elizabeth, told the BBC.
"Everybody has always done it, praying that the bridge wouldn't fall down. Today that happened," she said.
Expert concern has also been voiced in recent years.
Antonio Brencich, a structural engineer who lectures at Genoa University, warned in 2016 that there were problems with the bridge, Italian specialist website, Ingegneri.info, reports.
"Right away the bridge manifested various problems, beyond the construction costs, which went over budget," Brencich is reported to have written.
"There are errors in this bridge. Sooner or later it will have to be replaced. I don't know when," he warned, saying the designer, Riccardo Morandi, had miscalculated the "viscous deformation", an ageing effect on reinforced concrete.
A former Italian footballer was lucky to survive as his car plunged with the wreckage.
Davide Capello, now a firefighter but once a Serie A goalkeeper who played for Belluno and other teams, described a feeling of "flying".
"I saw the road ahead of me give way and found myself still and helpless inside my car that was flying low," he told newspaper Repubblica.
"I think I fell for about thirty meters and then, incredibly, the car stopped, maybe it was blocked by something, but there was not a violent bump, and my colleagues say it was a miracle, my only consequence is this needle that they put me in my arm when they took me to the hospital."
Top image: Investigators at Morandi Bridge, in Genoa, Italy, after its collapse on 14 August 2018 (State Police of Italy via Twitter