Japan is planning to spend $6.8bn to build a 400km chain of concrete seawalls to combat tsunamis. The walls will be built along the coast of the prefectures of Fukushima, Miyagi and Iwate, which make up the north-east of Honshu, Japan's largest island. These were the areas worst hit in the Great East Japan earthquake and tsunami of March 2011. 
The plan to build the walls is dividing Japanese opinion. Critics have said they will do little to protect against tsunamis, and that they will hurt marine ecology and the fishing industry, as well as blocking views of the ocean.
We cannot prevent those tsunami; all we can do is to have the best defenses we can build in place to protect ourselves– Naoshi Hirata, professor of earthquake science at The University of Tokyo
One argument is that the city of Kamaishi in Iwate prefecture had the largest seawall in the world, costing $1.6bn, before the 2011 disaster. However, this collapsed when the tsunami struck and an estimated 1,000 people died in the city. The wall may even had caused deaths as country dwellers fled to the city believing it to be a refuge.
The government responds that the wall will be effective, and gives the example of the 15m high barrier that saved the lives of 3,000 people living in Fudai village in Iwate.  
It also points out that the construction of the walls will create jobs and stimulate the economy in the area. 
Christian Dimmer, an assistant professor in the urban studies department at Tokyo University, told The Guardian last year: "Sea walls have the potential to save lives wherever they are built, provided the tsunami does not exceed the simulated height and run-up pressures. 
"The problem is that you can't predict how high the next tsunami will be, so sea walls can never give you 100% security. There will always be a risk, no matter how high you build them."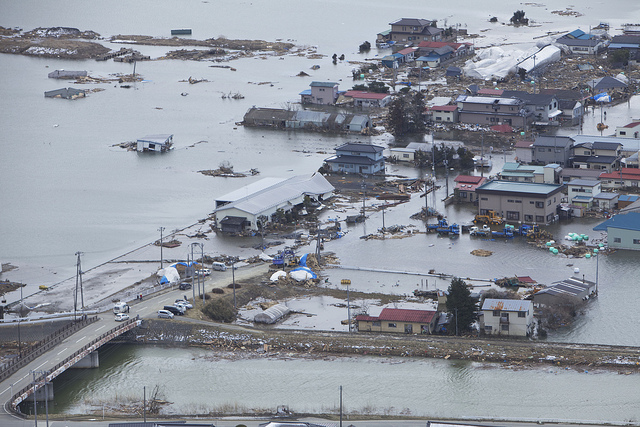 Aerial photo of Minato, devastated by both the earthquake and the subsequent tsunami (Wikimedia Commons)
An alternatives strategy would be a "great forest wall": that is, the afforestation of coastal areas supported by bricks and rubble. This would not stop a tsunami but would absorb some of its force and prevent debris from being backwashed into the ocean. 
Much of Japan's coastline is already protected by concrete seawalls. Naoshi Hirata, a professor of earthquake science at The University of Tokyo, told Deutsche Welle: "Not all residents fear losing their view over losing their towns. We cannot prevent those tsunami; all we can do is to have the best defenses we can build in place to protect ourselves."Â 
The Great East Japanese Earthquake killed an estimated 19,000 people. It was also the costliest natural disaster in world history at $235bn. 
Image: Floodwaters on Sendai Airport runway after the 2011 Great East Japan earthquake and tsunami (Wikimedia Commons)